Elton John's husband David Furnish praises Taron Egerton's singing ahead of Rocketman release
15 May 2019, 16:19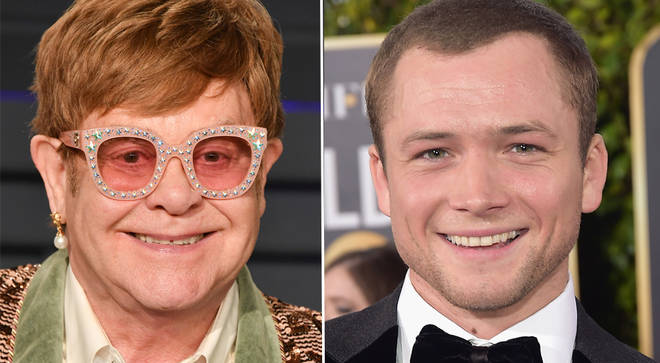 The Welsh actor is set to appear as Sir Elton John in a new film about his early life – and his impressive vocal skills are already causing a stir.
There's no denying that Sir Elton John is a musical legend – and now his husband David Furnish has praised actor Taron Egerton for his impressive portrayal of the star in the forthcoming film, Rocketman.
Produced by Furnish, who has been together with the 'Tiny Dancer' singer-songwriter for 26 years, the biopic details the life and music of Sir Elton, with Taron appearing as the lead role.
When you're playing the fourth-best-selling artist worldwide, you're always going to have big boots to fill – but team Elton have applauded Taron for his outstanding performance.
In an interview with Variety, Furnish said: "I think the most exciting thing about Taron as a singer throughout the whole process is how he grew.
"When he started he was very theatrical. He would sing words like he was on a [Broadway] stage. Rock stars don't sing like that. "Elton said to Taron, 'Look, you need to relax more. Don't try and copy me. Feel the spirit of the song.'"
In fact, the Welsh actor ended up being so good, Furnish admits "that when we got to the later end of the production, we went back and re-recorded a lot of the original vocals that we laid down because Taron had grown so much."
Even his physical transformation took Sir Elton by surprise – and after seeing one of the first images of Taron to emerge from the movie, said the resemblance was "uncanny".
Producer Matthew Vaughn added: "I knew how well Taron could sing and musicals are like action movies. If you look at Tom Cruise, you know he's doing it. I'm hoping people are going to lose their minds for Taron when they hear him sing."
But Taron is certainly no stranger to singing, having previously participated in a musical, joined a Welsh choir and played the teen gorilla Johnny in the animated film Sing – who ironically sings Elton's 'I'm Still Standing'.
After Rami Malek's incredible performance playing Freddie Mercury in Bohemian Rhapsody, which led to his recent Oscar win for 'Best Actor', Furnish has predicted similar success for Taron.
Also starring Richard Madden, Jamie Bell and Dallas Howard, Rocketman is due to be released in the UK on Wednesday 22 May.