40 saxophones have been stolen from a family run shop in Maidenhead
14 July 2017, 14:38 | Updated: 14 July 2017, 17:35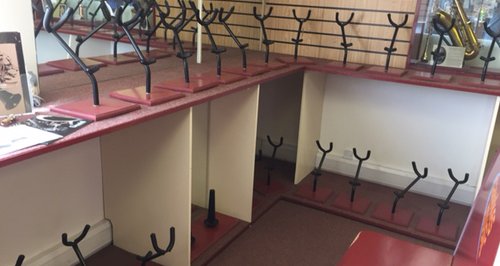 Around £80,000 worth of saxophones were stolen from a shop in Maidenhead in a spate of burglaries targeting music shops.
Sam Gregory, the Sales & Marketing Manager at Dawkes Music, told Classic FM that 40 instruments had been stolen each ranging in value from £1,000 to £3,000.
"If it was happening on the high street to a big high street chain we'd be hearing all about it even more so, so it does need highlighting the value of what's going on here. It's not petty theft, it's serious organised crime."
The theft took place on 12th July when a group of thieves broke into the company's warehouse and got away with 40 saxophones before the police arrived on the scene.
"Obviously, that's distressing enough as it is but it's part of a wider spate of burglaries that have targeted music retailers in the south." Sam said.
Dawkes is a small company in Maidenhead, in its third generation of family ownership. There are 25 staff who work in the store.
"We're not the only ones that have been hit," said Sam. "I'm keen to highlight the fact that other shops have been hit – there's another big saxophone store that has been hit a couple of times in their Sussex branch and a similar amount stolen.
"So the overall retail value of what's been taken in these burglaries is increasing towards half a million, this is serious stuff."
£72,000 worth of saxophones were stolen from Sax.com in Crowborough, East Sussex in February this year.
The shop has said that it is unlikely that the instruments will appear on the market in the UK, but there is a list of each stolen instrument on the shop's website.
Sam and the rest of the team at Dawkes Music had this advice for other local businesses:
"Make sure your insurance and security systems are in place as much as they can be and try to take extra steps. I would say our shop was recced beforehand, so just be alert. Most retail people are aware of things like that when they happen and that could be a little tell-tale sign to somebody that something might be in the planning and you might want to think seriously about short term security."
"We'd like to see those instruments again. I think that's highly unlikely. We don't want it to happen to anyone else because it's painful. Ok, we're in competition with some of these other people but we're all part of the same industry and it doesn't help the industry overall, so we don't want anyone else going through what we've gone through."
Sam also said:
"I would encourage anyone who's thinking about buying a saxophone on 'non-dealer websites', to think very carefully about where that might be coming from and ask if the heritage can be proven. If the seller can't prove a serial number then you've got to ask why they can't prove that or why they won't."
The investigation is ongoing and all the information can be found here. The police would ask anyone with information to call 101.