Creative subjects being cut in schools across the UK
30 January 2018, 12:04 | Updated: 30 January 2018, 17:56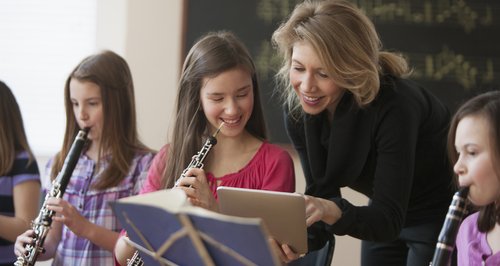 According to a study of over 1,200 secondary schools the time spent on arts subjects is being cut across the country
Around 90 per cent of the schools included in the study said they'd had to cut back on resources for teaching the arts, including lesson time, staff or facilities.
Music, art, drama as well as design and technology have all suffered cutbacks according to the research.
The reasons given were the government's increased emphasis on core academic subjects and pressures on school budgets.
Cellist and principal of the Royal Birmingham Conservatoire, Julian Lloyd Webber, has been outspoken about the negative effects of cutting arts subjects in schools.
"It is a tragedy," he said. "All our children deserve access to the arts. The UK has traditionally been a world leader in culture – we should be supporting and encouraging the arts instead of jeopardising young people's choices through these short-sighted cuts."
Grammar school will charge students for GCSE music in 'deeply troubling' move
Over 100,000 pupils to lose out on music and arts with EBacc, according to research
The report found that four in ten schools said they had less money to spend on facilities for the creative arts, while over three in ten said they've reduced the number of timetabled lessons.
Some schools also said they now had fewer staff who specialised in the creative arts.
The report also found that:
Three in ten schools feared they might have to drop at least one creative arts subject at GCSE
One in ten schools said they were increasingly relying on voluntary donations from parents for art and music teaching
One in ten schools had cut back on extra-curricular clubs.
According to separate research from the Education Policy Institute, the percentage of pupils taking at least one arts subject at GCSE is in decline.
In 2016, it reached its lowest level in a decade at 53.5 per cent.
A spokesperson for the Department for Education said:
"Since 2011, the proportion of pupils in state funded schools taking at least one arts subject has increased."
The spokeswoman added that in council schools music is a compulsory subject up to Year 9 while "academies are required to provide a broad and balanced curriculum, which Ofsted consider in their inspections."
Deborah Annetts, CEO of the Incorporated Society of Musicians, has responded to the findings, saying: "These deeply concerning figures only add to the growing body of compelling evidence that the English Baccalaureate or EBacc – which excludes creative subjects from key school league tables – is undermining creative subjects in secondary schools. For the first time in at least seven years, the uptake of GCSE music has fallen below 40,000.
"We urge the Department for Education to rethink their EBacc proposal before any further damage is done."