New Zealand Symphony Orchestra play to a full concert audience in 'world first' after lockdown
26 June 2020, 17:17 | Updated: 28 June 2020, 21:24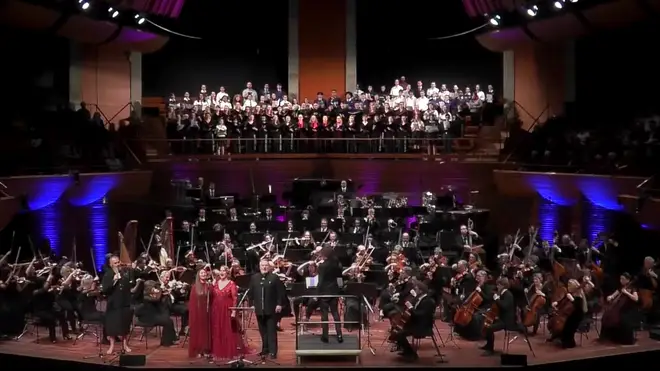 A symphony orchestra and rapturous applause from a sold-out concert hall audience – Friday marked an important stage in bringing live music back to a quietened world.
The sound of a full symphony orchestra playing to a full concert hall has returned, as New Zealand bring back live symphonic music after containing the spread of coronavirus.
On 8 June, Prime Minister Jacinda Ardern announced that the country had no active cases of COVID-19, meaning that all social distancing regulations could be lifted.
For music, this allowed orchestras to resume playing in their normal formations and meant concert halls could be filled to capacity once again.
Read more: UK government publishes five-stage 'roadmap' for theatres >
The country's national orchestra celebrated with a Friday night gala concert called 'Ngū Kīoro… Harikoa Ake – celebrating togetherness', in the New Zealand capital, Wellington. The concert featured Kiwi tenor Simon O'Neill, soprano Eliza Boom, Maisey Rika, conductor Hamish McKeich, Horomona Horo, Taonga puoro and singers from Voices New Zealand. All ended with a rousing, audience-led performance of the traditional Māori song 'Pokarekare Ana'.
NZSO: Ngū Kīoro… Harikoa Ake – celebrating togetherness
Performing, listening, singing, and just being together – it must have been a wonderful moment for all involved. You can watch it all in the video above.
NZSO Chief Executive Peter Biggs said they were the first orchestra to perform in a concert hall without any COVID-19 restrictions.
"This is a magnificent achievement for our national orchestra and testament to the sacrifices and hard work of all New Zealanders," Biggs said.