Finalists announced for Cliburn Competition 2017
8 June 2017, 14:49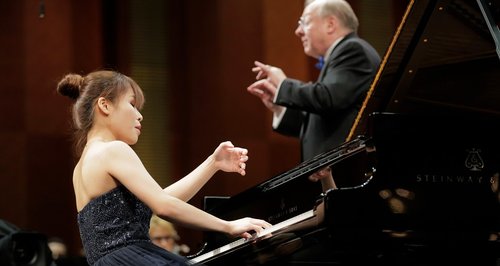 The six finalists for this year's edition of the iconic competition have been announced
Image: Rachel Cheung at the semifinals on Monday 5 June
We'll be live streaming the finals of the competition right here:
The Van Cliburn competition takes place every four years in North Texas and this year's edition kicked off at the end of May, with 30 competitors from 16 different countries – including the UK.
Now the six finalists have been announced:
Kenneth Broberg, aged 23, United States
Rachel Cheung, aged 25, Hong Kong
Yury Favorin, aged 30, Russia
Daniel Hsu, aged 19, United States
Yekwon Sunwoo, aged 28, South Korea
Georgy Tchaidze aged 29, Russia
Each finalist has to perform a piano quintet with the Brentano String Quartet as well as a Mozart piano concerto and another concerto of their choice with the Fort Worth Symphony Orchestra and conductor Leonard Slatkin, who also chairs the jury this year.
The jury also includes pianist and composer Marc-André Hamelin and British pianist and former head of keyboard at the Royal Academy of Music, Christopher Elton.
The competition will be live streamed by medici.tv and you can watch each round online here. We'll also be live-streaming the two concerto finals, on 9 and 10 June at 7.30pm CDT (1.30am UK time)
The Cliburn competition was first held in 1961 and is held every four years in North Texas. It's named after, and inspired by, the great American pianist Van Cliburn, who won the first Tchaikovsky Competition, which took place in Moscow in 1958 – at the height of the Cold War.