Please enjoy this genius classical parody of the '90s dance hit 'I Like to Move It'
29 January 2020, 14:43
Last year, these classical musicians treated us to an amusing rendition of Aqua's 'Barbie Girl' – and now they're back with an unconventional cover of Reel 2 Real's electro dance hit.
If you're a die-hard classical music fan then brace yourself: this entirely ridiculous new cover of Reel 2 Real's 1994 dance hit, 'I Like to Move It', has been designed to make you laugh out loud.
Originally written by DJ Erick Morillo and rapper Mark Quashie, the infectious song became instantly popular on the music scene, peaking at number 89 on Billboard's Hot 100 chart and reaching number 5 on the UK Singles Chart.
It also featured on the soundtrack for the 2005 animated film, Madagascar, and has since been used in numerous adverts, TV shows and video games.
Now, Swiss mezzo-soprano Stephanie Szanto and pianist Simon Bucher, known together as The High Horse, have inspired the world with their humorous new take on the song – and quite frankly, it's giving us all life.
In the video (watch above), we see Bucher introduce that famous riff on possibly the world's tiniest keyboard, while Szanto sits beside him looking edgy.
Read more: Someone made a classical version of 'Barbie Girl' because the world is ending >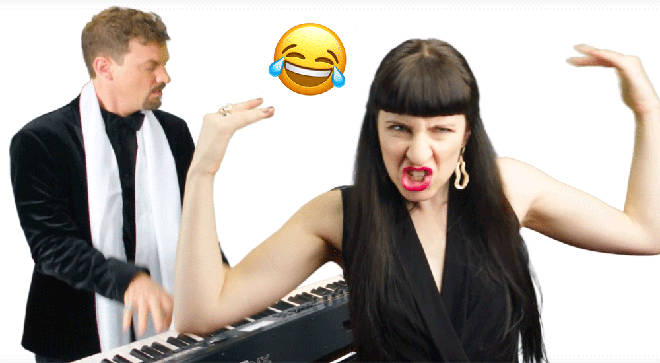 A few bars in, she starts warbling the words, "I like to move it, move it" – but there's no sign of gritty ragga vocals here, only an expertly executed aria.
Couple that with retro sunglasses, startling dissonance and some rather... interesting choreography, and we're hooked.
While the original version of the song gave us drum loops and synths, this classical parody gives us vibrato and piercing high Gs.
After hearing The High Horse's whacky version of Aqua's 'Barbie Girl' last year (and loving it), we had high hopes for this latest collaboration, and we weren't left disappointed.
If you've liked what you've heard so far then fear not, The High Horse have a whole album of '90s parodies for you to enjoy, titled Best of Worst Vol. 1.
Speaking about their musical approach, Bucher has said: "Our professional education and training as classical musicians is somewhat comparable to that of a dressage horse.
"If we keep that image: what could happen when two highly trained dressage horses with all their skills bolt and jump over their fence?"
The result is a collection of unusual covers, including Eiffel 65's 'Blue (Da Ba Dee)', Right Said Fred's 'I'm too sexy', Village People's 'In the Navy' and Rednex's 'Cotton Eye Joe'.
Listen to the album below. You're welcome.