Reports emerge alleging conductor Charles Dutoit sexually assaulted four musicians
21 December 2017, 17:43 | Updated: 22 December 2017, 13:32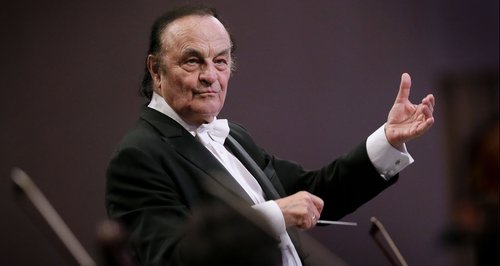 The 81-year-old artistic director and conductor of the Royal Philharmonic Orchestra has been accused of sexual misconduct by three opera singers and a classical musician in a new report.
In separate interviews with The Associated Press, the musicians reported incidents between 1985 and 2010 which occurred in the Grammy Award-winning conductor's hotel suite, his dressing room and backstage at a concert.
The women said the incidents took place on the side-lines of rehearsals and performances in five U.S. cities – Chicago, Los Angeles, Minneapolis, Philadelphia and Saratoga Springs, New York.
"He threw me against the wall, shoved my hand down his pants and shoved his tongue down my throat," retired mezzo-soprano Paula Rasmussen said of an incident in Dutoit's dressing room at the LA Opera in September 1991.
Two-time Grammy Award winner soprano Sylvia McNair said the Swiss-born conductor tried to force himself on her after a rehearsal with the Minnesota Orchestra in March 1985, when she was 28.
"As soon as it was just the two of us in the elevator, Charles Dutoit pushed me back against the elevator wall and pressed his knee way up between my legs and pressed himself all over me," said McNair. "I managed to shove him off and right at that moment, the elevator door opened. I remember saying, 'Stop it!' And I made a dash for it."
A 24-year-old musician who played with the Civic Orchestra of Chicago said Dutoit tried to "kiss" her and "push his body" on her when he was guest-conducting the orchestra.
She said he invited her to lunch at a restaurant, but then changed the venue to his hotel suite, where he forced himself on her.
The fourth woman was a soprano, who said Dutoit restrained her when she sang with the Philadelphia Orchestra in Saratoga Springs.
Dutoit called a meeting in his dressing room after a rehearsal, and when the others left, she said he pressed her against the wall, restrained her wrists and pushed himself against her. He grabbed her breasts on two other occasions, she said — while they were riding in a car and also backstage, right before they walked on stage to perform.
Four years later, when the soprano performed again with Dutoit in Philadelphia, she said he pushed her against a wall and forced his mouth on hers.
"I was so angry that I had let it happen again," she said. "I felt like I was in hell."
"There is nothing wrong with him as a musician," she said of the world-renowned conductor. "But he has been allowed to operate as a predator off the stage."
The RPO has released the following statement:
"Based on the information available to us, these allegations were issued without reaction from Mr Dutoit and, to the best of our knowledge, the claimants have initiated no formal legal proceedings. Nonetheless, we take this matter very seriously and we will be monitoring the situation closely.
"Charles Dutoit is one of the Royal Philharmonic Orchestra's (RPO) titled conductors joining the Orchestra for approximately 30 concerts each year. The RPO has received no complaints or claims of inappropriate behaviour relating to his work with the Orchestra.
"As a leading international ensemble, the RPO is committed to the highest standards of ethical behaviour, which it expects from everyone that works with the Orchestra. The Royal Philharmonic Orchestra takes very seriously its responsibility to maintain a safe working environment."
Charles Dutoit holds the title of conductor laureate of the Philadelphia Orchestra and conductor emeritus of the NHK Symphony Orchestra in Tokyo. He is scheduled to conduct the New York Philharmonic next month, in a four-day programme celebrating the music of Ravel.
The Royal Philharmonic Orchestra and Charles Dutoit have jointly agreed to release him from forthcoming concerts with the orchestra for the immediate future.
Dutoit has not yet responded to the allegations.
Since the four accusers came forward, a classical music critic tweeted the following:
Holy crap y'all. I wrote about Dutoit harassing me while I was interviewing him back in the 90s. This was published in mainstream media. Nobody didn't believe me. Nothing happened to him. https://t.co/ckaU60fHxl

— Natasha Gauthier (@ottawanag) December 21, 2017
Exactly. Everyone knew he was I as I described, nobody was shocked. Not even me. Consequences--now that would have shocked me. This was 1995, so it was just accepted as a by-product of "artistic greatness".

— Natasha Gauthier (@ottawanag) December 21, 2017
The three opera singers and musician said they felt inspired to come forward after hearing women recently speak out about their experiences of sexual misconduct by conductor James Levine.
Photo credit: REX