Case Notes: the award-winning true crime podcast from Classic FM
16 May 2018, 15:10 | Updated: 21 May 2019, 14:34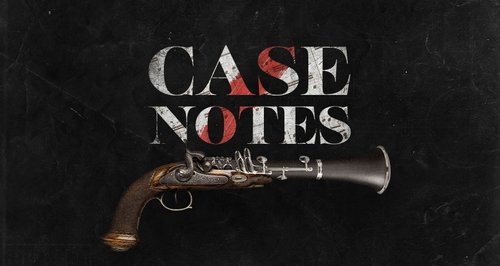 Case Notes, winner of the British Podcast Awards' "Best True Crime Podcast", is a true crime podcast like no other. Presenter Tim Lihoreau delves into the darkest mysteries and murkiest stories from the history of music. Did you know Haydn's head was taken from his grave by one of his best friends? Or that one composer was so obsessed with black magic his friends feared for his life?

If you're listening on Mac or PC, scroll down to listen to the podcast right here in our player
Music history is packed with stories of gruesome crimes, murky mysteries and dark deeds. In Case Notes, a FREE award-winning podcast presented by Tim Lihoreau and produced by Classic FM, we delve into the archive, interview experts and uncover evidence about just some of these jaw-dropping stories.
Case Notes won Gold in the "Best True Crime Podcast" category in the 2019 British Podcast Awards.
The original music for the series was written by Thomas Hewitt Jones, and you can find out more about his inspiration for the score here.
And you can join Case Notes' presenter, Tim Lihoreau, every weekday morning from 6am for Classic FM's More Music Breakfast – find out more here.
How to listen
On your mobile
Download the Classic FM app for iPhone and iPad to listen & subscribe via Global Player
Subscribe on Apple Podcasts here
And subscribe on Android here.
On a Mac or PC
Just click the 'play' button below to listen to the show. Make sure you keep the window open. You can always find the latest episode at classicfm.com/casenotes
Episode 1: The Mystery of Haydn's Head
Episode 1: Haydn's Missing Head How did the tomb of Austria's great composer come to contain not one skull, but two? The story of Haydn's head leads us into the murky world of 19th-century medicine, complete with grave robbing and some gruesome pseudo-science. Be warned, this episode contains descriptions that some listeners might find disturbing. Find out more about the mystery of Haydn's head and see pictures connected to this story >
Episode 2: The Gesualdo murders
The murder of Donna Maria D'Avalos and Don Fabrizio Carafa in 1590 was one of the most violent Naples had ever seen. It was so violent, in fact, it became known as the crime of the century. But who could have committed such a brutal murder? And why was no one ever punished for the crime? In this episode we explore the grim story of a killing that horrified Europe and sent shockwaves down the centuries. This episode tackles subjects that some listeners might find upsetting. Find out more about the Gesualdo murders and see pictures connected to this story >
Episode 3: The stolen Stradivarius
Has something ever been stolen from you? Do you remember the feeling of panic when you realised it was gone? Now imagine if that thing was worth £1.2m. This is the story of violinist Min Kym and what happened when her instrument was taken from her. It's a tale of giddy love, devastating loss and the healing power of music. Find out more and see pictures of the stolen Stradivarius here >
Episode 4: The death of Peter Warlock
In the early 20th century a craze for the occult swept the country. It was the era of Aleister Crowley and a new-found fascination with black magic. And no-one embraced this world more fully than Philip Heseltine. This hard-living, heavy-drinking composer delved into the art of black magic, experimented with spells and even changed his name to 'Peter Warlock'. In 1930 he died suddenly, at the age of just 36. Had he been interfering with forces beyond his control? Find out more and the death of Peter Warlock, hear exclusive extra audio and see photographs of the composer here >
Episode 5: The mystery of Tchaikovsky's death
In 1893 the composer Tchaikovsky breathed his last. He had become a celebrity in his native Russia and been showered with honours. But Tchaikovsky had a secret. He was gay. And in Russia at the time that was illegal. Attempts by authorities and historians to cover this up ever since – has meant that Tchaikovsky's life and death became shrouded with mystery. In this episode, we try to get to the bottom of exactly what happened to one of the greatest musicians the world has ever seen. This episode tackles subjects that some listeners might find upsetting. Find out more about the mystery of Tchaikovsky's death.
Episode 6: The mystery of Mozart's Requiem
In 1791 a masked figure knocked at Mozart's door. He wanted to commission a piece from the great composer – a mass for the dead. There was one condition, Mozart could never know who his client was. Mozart agreed and started work on the piece. But he soon became ill – had he been poisoned? Mozart began to fear he was writing the music for his own funeral. He died before he could finish the piece. Who was the mysterious stranger? And what's the real story behind Mozart's Requiem? Find out more about the mystery of Mozart's Requiem