Ending of 'Carmen' re-written to highlight violence against women
3 January 2018, 11:08 | Updated: 3 January 2018, 11:17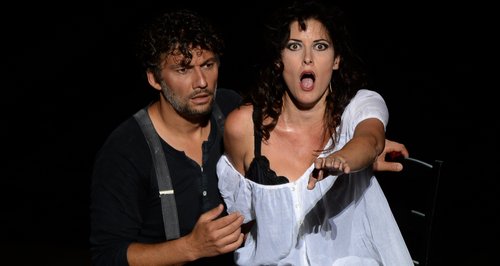 A new production of Bizet's famous opera opens in Florence this weekend – but with a dramatically different ending
In Bizet's original, Carmen is killed by her former lover Don José, in a jealous rage over her love for the bullfighter Escamillo.
In the revised version, to be premiered on 7 January at the Teatro del Maggio Musicale, Carmen shoots Don José with a pistol she's snatched from him.
The team behind the new production, directed by Leo Muscato, say they want to use the opera to highlight violence against women in modern Italy.
Over 100 women are killed by men in Italy every year – in most cases by current of ex-partners. The United Nations recently called violence against women "the most pervasive form of violence in Italy".
Speaking to The Times, spokesman Paolo Klun said: "Carmen is an abused woman who suffers beatings and is seen bleeding and with a black eye. We want people to understand that."
"The idea for the change came from the realisation that when the audience applauds at the end of the last act, they are applauding in the presence of a corpse."
Cristiano Chiarot, head of the Teatro del Maggio Musicale in Florence told La Repubblica newspaper: "At a time when our society is having to confront the murder of women, how can we dare to applaud the killing of a woman?"
"I believe one can remain faithful to the spirit of the opera whilst taking certain liberties – as happened in classical times, when there were various versions of the most famous myths, without their original meaning being compromised."
The new production directed by Leo Muscato opens in Florence on Sunday 7 January.
Picture: Jonas Kaufmann as Don José and Kate Aldrich as Carmen in a production of Carmen in Orange, France in 2015