Classic FM's 20 best classical albums of the year
15 December 2016, 16:08 | Updated: 4 January 2017, 12:59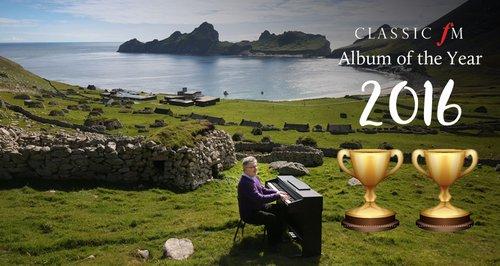 Every year, Classic FM presenters and staff pick their favourite albums of the year – and vote for their no.1 recording. Here are the 20 albums that we loved in 2016.
Classic FM's Album of the Year
Lost Songs of St Kilda - Trevor Morrison
An album of folk songs from the abandoned Scottish island of St Kilda saved from extinction when a care home worker recorded an elderly musician playing them on a piano. The album spent weeks at no.1 in the classical chart and was a regular on John Brunning's Classic FM Chart show.
John said: "It's pleasing to see a truly original project like the Lost Songs of St Kilda winning a prestigious award. Each of these haunting melodies is given a contemporary twist to excellent effect. An album to cherish."
Classic FM went to St Kilda to watch Scottish composer James MacMillan perform some of the pieces on a portable piano:
Watch more and read about the trip here >
Best of the rest
Cantata Memoria - Karl Jenkins
In 1966, a mountain of waste from nearby coal mines collapsed on the village of Aberfan in Wales. The slurry engulfed Pantglas Junior School, killing 116 children and 28 adults. Fifty years on, Karl Jenkins composed a touching musical tribute to the victims of the Aberfan Disaster. Singer, broadcaster and Classic FM presenter Aled Jones says: "This is the perfect tribute to mark the anniversary of such a devastating tragedy. Karl's music is both inspiring and moving, and it's always wonderful to hear the voices of Bryn Terfel and Elin Manahan Thomas."
Find out more about Cantata Memoria >
One Voice - Aled Jones
This innovative album took previously unreleased recordings of Aled Jones as a boy treble from the 1980s and mixed them with present day Aled. The result was a gorgeous collection of folk songs and classical pieces that spend weeks at no.1 in the chart. Broadcaster and Classic FM presenter Alan Titchmarsh was a particular fan, saying: "One Voice is a reminder of just how special Aled's voice was as a treble - full of character and personality as well as musicality. To hear him 'sing with himself' is wonderfully moving."
Find out more about the story of One Voice >
Morricone 60 - Ennio Morricone
An album of Morricone's groundbreaking and evocative film music newly recorded by the Czech National Symphony Orchestra. Bill Overton said: "I saw Ennio Morricone live at Blenheim Palace in the summer and he was absolutely fantastic. These new recordings of Morricone's music transport me to that beautiful summer evening."
Beethoven Complete Symphonies Vol.2 – Copenhagen Philharmonic Orchestra & Lan Shui
A favourite of our weekday mornings presenter John Suchet, who said: "Crisp, brisk, unsentimental. Just the way Beethoven would want them played."
The Tchaikovsky Album – Royal Liverpool Philharmonic Orchestra and Vasily Petrenko
Classic FM Requests presenter Anne-Marie Minhall says: "Honorary Scouser Vasily Petrenko has worked wonders to raise the profile of the RLPO, particularly in their recordings of Russian music. This album is a magnificent listen from start to finish and how great to hear the start of Tchaikovsky's symphonic journey with No.1 – Winter Dreams – perfect to enjoy at this time of year."
Roots – Martin Fröst
Fröst's first recording on Sony Classical was released way back in January. Classic FM's More Music Breakfast presenter Tim Lihoreau said: "I have to admit, my 12-year-old son turned me on to this album. He had a copy, having been beguiled by the pixie that is Martin Fröst at Classic FM Live and I too fell under its spell. Great playing, which made me re-evaluate the clarinet."
Transcendental – Daniil Trifonov
Our music guru David Mellor reviewed this album earlier this year, calling it "mightily impressive", and adding that in his performance of La Campanella, "Trifonov unleashes a demonic right hand".
High-Rise – Clint Mansell
Classic FM's Saturday Night at the Movies presenter Andrew Collins said: "My favourite British composer rises to the occasion of Ben Wheatley's adaptation of JG Ballard's dystopian novel about an allegorically class-riven skyscraper, delivering headily repetitive strings that are just 'wrong' enough to summon instant unease and a lone harp and trumpet playing the same motifs. Aromatic and sexually charged, it's surely Mansell's most sophisticated, focussed score yet."
Andrew Collins picks the best movie scores of 2016 >
Introit: the Music of Gerald Finzi - Aurora Orchestra
A John Suchet 'Album of the Week' back in March, this album employed the talents of some exceptional musicians, including the violinist Thomas Gould and the saxophonist Amy Dickson, to perform new arrangements of Finzi's works.
Ola Gjeilo - Ola Gjeilo
Tundra, the stand-out track from Gjeilo's latest album, was a new entry in the Classic FM Hall of Fame 2016 earlier this year after it was championed by our presenter Aled Jones. The track represents a perfect snapshot of its Norwegian composer's strongest features: crunchy suspensions, ethereal chord constructions and an almost wordless vocal quality.
Wonderland – Alice Sara Ott
A John Suchet Album of the Week back in September, in this fabulous recording, the brilliant young pianist Alice Sara Ott takes us on a journey into the world of Edvard Grieg, complete with mountain trolls and elves, hills and fjords.
Bach – Nemanja Radulovic
The shaggy haired Serbian violinist was a favourite of Classic FM listeners last year with his album Journey East. His new album was similarly popular. Classic FM presenter Tim Lihoreau said: "Loved the freshness of this album - Nemanja and Double Sens approach it as if Bach has just handed them the manuscript moments earlier. Fabulous playing."
In War & Peace: Harmony Through Music - Joyce DiDonato
Mezzo-soprano Joyce DiDonato was inspired by the 2015 Paris attacks to record this album of Baroque opera arias on the subject of war and peace. DiDonato told us she wanted to "bring an album into the world that reminds us of the best of humanity. Nobody represents this better in music better than Purcell and Handel... From the internal chaos of Agrippina to the deep sense of loss of Dido".
Watch: Joyce Didonato's pro-tips for singers >
Mendelssohn Symphonies No. 1 & 4 – London Symphony Orchestra and John Eliot Gardiner
A favourite of Classic FM's Full Works Concert presenter Catherine Bott says: "Characterful conductor and Classic FM's orchestra in the City of London combine in infectious performances of two symphonies by one of my very favourite composers. Listen to Mendelssohn's Italian symphony (no.4) and the sun will shine for you on the dullest winter's day."
Mozart Piano Concertos 1 & 2 – Rudolf Buchbinder
John Suchet said: "Austrian pianist Buchbinder earned a living as cocktail bar pianist before becoming one of the most sought-after interpreters of the core Austro-Germanic repertoire, particularly Mozart."
J. S. Bach: Violin Concertos – Cecilia Bernardini
John Brunning says: "John Butt and his Edinburgh-based Dunedin Consort play Bach's music brilliantly, and with Cecilia Bernadini as soloist, their reputation is further enhanced."
Mendelssohn in Birmingham: Vol. 4 – Jennifer Pike
Pike teamed up with Classic FM's Orchestra in the Midlands, the City of Birmingham Symphony Orchestra, for this wonderful album of Mendelssohn orchestral works.
Pure Chopin – Ji Liu
Despite the name, Ji Liu's album wasn't purely Chopin. A bonus track, 'Nocturne Orientale', is an original piece written by composer, pianist and friend Stephen Hough.
Elgar & Walton: Cello Concertos - Steven Isserlis
Our music guru David Mellor reviewed this album earlier this year, calling the Elgar Cello Concerto performance "one of the most satisfying recordings this now much-loved work has received".