'Singing in a church choir is everything the Brit Academy tries to do – but times 100' says Alexander Armstrong
15 April 2016, 13:20 | Updated: 20 April 2016, 12:56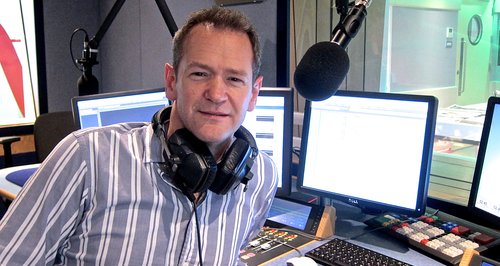 The Classic FM and Pointless presenter has issued a rallying cry in defence of cathedral choirs warning that we're in danger of losing 'a national treasure of enormous size and value'
The Classic FM and Pointless presenter will be supporting a concert at St Paul's Cathedral on 27th April, along with Aled Jones, to raise money for the Friends of Cathedral Music.
Speaking ahead of the concert, Alexander said:
"My background in choral music has meant everything to me. It's a fantastic grounding in music but it's a discipline as well. I think you learn gravitas as a chorister, there's a great dignity to it.
"It brings you into contact with a colossal range of literature, it's very good for your maths, it's a grounding in performance. It's everything that the Brit Academy is trying to do – but times 100. Any child who has been a chorister is destined to have an interesting and fulfilling life."
Alexander, who is now a baritone, attended Durham School and Trinity College, Cambridge on choral scholarships.
It costs around £250,000 per year to run a cathedral choir. The Friends of Cathedral Music recently warned that support for choirs had shrunk by up to 50% and that we were in danger of losing cathedral choirs.
"We shouldn't imagine these things just carry on magically – it takes effort," said Alexander. "I think old choristers in particular are people who should be rallying to this – because we're all people who have benefited intensely from the experience"
"We have to keep this tradition going because there's such a huge repertoire of music preserved within those institutions. If one were to lose that we would lose a national treasure of such enormous size and value, that it's hard to put into words."
Responding to the budgetary demands hanging over cathedral music departments, the Friends of Cathedral Music have this year launched the Diamond Fund for Choristers - to ensure that a cathedral music roles and education remains open to young singers of all backgrounds.
Asked what he'd say to someone who'd never been to a choral service, Alexander said: "We all live in a world where we do need time for respite and reflection. We live in a world where we are often searching for beauty, and taking time to immerse yourself in quiet beauty is a very beneficial thing"
Alexander Armstrong will be speaking at a celebration of cathedral music at London's St Paul's Cathedral on 27 April 2016, hosted by fellow Classic FM presenter and cathedral chorister Aled Jones. For the first time ever, choristers representing 60 cathedrals across the country will come together to perform some of Britain's most-loved choral music, raising funds for the Friends of Cathedral Music's new Diamond Fund for Choristers.