US music school and concert hall consumed by fire after lightning strike
20 April 2020, 11:05 | Updated: 20 April 2020, 11:06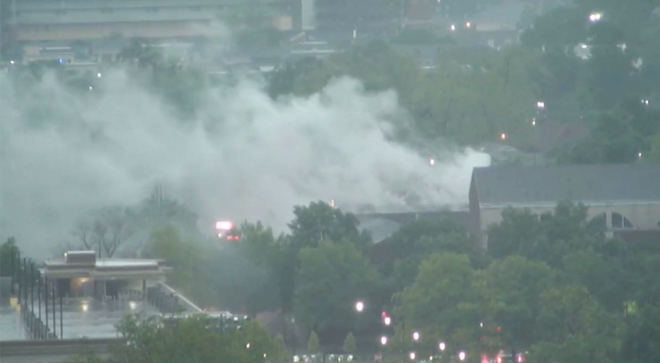 Smoke could be seen billowing from the University of Alabama music school, which caught fire yesterday.
The Moody Music Building at the University of Alabama caught fire during a thunderstorm yesterday (19 April) around 5pm.
Firefighters were on scene tackling the blaze at the Tuscaloosa music school, which is located on the grounds of the university campus.
Although unclear how the fire started, there were multiple lightning strikes around the campus as storms passed through Alabama on Sunday afternoon.
The university has shared an update to say that the fire is now under control, but the blaze has caused 'extensive damage' to the south wing of the building.
Read more: Soprano duets with her beeping oxygen monitor in COVID-19 care >
UA Music Building on fire

BREAKING: The Moody Music Building on the University of Alabama campus is on fire. https://bit.ly/2xIYMnB

Posted by ABC 33/40 on Sunday, 19 April 2020
Walt Maddox, Mayor of Tuscaloosa, tweeted an update on the damage, saying: "TFR [Tuscaloosa Fire Rescue] appears to have saved the majority of the Million Dollar Band uniforms and instruments, but it is too early to know if those assets sustained damaged."
The Moody Music Building features a state-of-the-art concert hall which was modelled on Vienna's Musikverein, and contains a Holtkamp organ.
The venue was opened in 1987 and is one of the university's most prized cultural facilities.