6 tips for online dating in quarantine from Classic FM Romance
17 April 2020, 13:00 | Updated: 21 April 2020, 08:22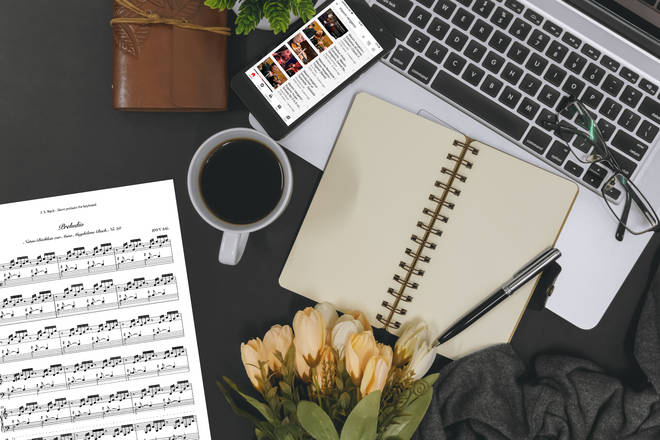 Online dating hasn't stopped amidst the coronavirus pandemic – so here are some tips for enjoyable meet-ups with new people online, and via video chat, from the safety of your own home.
In light of the recent government requirements around coronavirus (COVID-19), it's not currently possible to go on real-life dates. However, just because we're all practicing social distancing, it doesn't mean that we can't be social online. Now more than ever, connecting and communicating is of vital importance.
Classic FM Romance is the perfect place to get to know new friends, whether you're interested in dating or simply looking to connect with like-minded people.
All you need to do is register a profile, write a bit about yourself and your interests, add a photo and then see who "matches" you. Our customer service team can help give you advice if you get stuck on what to write or which photo to choose, and our secure email system means you don't have to exchange contact details with someone until you feel comfortable in doing so.
Click here for the latest coronavirus advice from the NHS >
To help you get started, we're giving all new members of Classic FM Romance a free one-month membership (no payment card necessary) if you join before Monday 11 May 2020, and complete a valid profile (including picture) – click here to join today.
Once you've found some people you'd like to connect with, (or even date!) there are lots of different ways you can start getting to know people online whilst social distancing is in place… Here are some ideas for you, once you've made the leap and decided to swap numbers...
Read more: Join the online dating website designed for those who love arts, culture and classical music >
Have a virtual coffee

Meeting up for a coffee is a first date favourite, giving you the opportunity to have a brief one-to-one without the pressure of signing up to spending hours together. Using a video calling app such as Whatsapp or Facetime you can sit down together with a cuppa and have a nice chinwag. The latte might not be as good as you'd get in your favourite cafe, but you'll have a great opportunity to get to know each other a bit better.

Meeting up for a coffee is a first date favourite, giving you the opportunity to have a brief one-to-one without the pressure of signing up to spending hours together.

Picture: Getty

Watch a film together

Watching a film together is a great early date, because it gives you something to focus on and talk about that isn't each other. This removes the pressure and eases nerves so you can relax in each other's company. Normally we'd suggest a trip to the cinema, which isn't possible at the moment, but luckily we live in the age of streaming so there are plenty of great films online for you to share. The Google Chrome extension Netflix Party makes streaming together easy by syncing playback and giving you the option to add a chat window.

via Giphy

Watch a classical concert together

A love for classical music is, of course, what brought you to Classic FM Romance in the first place. And lucky for us, lots of music venues, organisations and performers are putting their concerts online. So set up a laptop or smart TV, light a candle, dim the lights and – together with your date on background Whatsapp – sit back and relax to your favourite Bach, Beethoven, Mendelssohn, Mozart, Brahms and beyond...

Have an online games night

Games are another great way to spend time together and make conversation without just staring at each other via a video screen. Old favourites such as Scrabble, Drawful (basically Pictionary) and Bridge are available, but there are plenty of others to play together that you might not have come across like Quiplash, or, if you fancy something less competitive, Stardew Valley.

via Giphy

Go to a museum or gallery together

Museums and galleries have been forced to close their doors to visitors, but many are offering culture lovers the opportunity to visit them online. This means you can visit far flung places you've only dreamed of, all from the comfort of your own home, from the Australian National Surfing Museum to the Museo Frida Kahlo in Mexico. Google Arts and Culture offers a peek into many famous museums, as well as beautiful national parks the world over. It's the perfect way to plan the places you want to visit (perhaps together!) when you can travel again.

Make dinner together

You can't cook for one another in real life so why not make the same meal at the same time and eat together? Access to the shops is limited so it might have to be a basic pasta and sauce, but the experience of doing something together will be as lovely as ever. And if you're competitive types, you can see which one turns out best and try to top the other person's meal next time.

via Giphy
So, you see, social distancing doesn't have to mean social isolation – getting to know someone virtually now means you'll be ready to meet up in real life as soon as the restrictions end.
We hope you enjoy using the service and trying out our virtual date ideas. Let us know how you get on!
Click here to join Classic FM Romance for free, any time before 11 May. Visit Classic FM Romance to find out more.