Listen again to our concert of great British music to mark the Queen's 90th birthday
12 June 2016, 20:22 | Updated: 20 January 2017, 13:06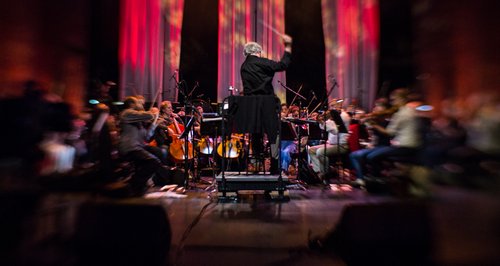 Bill Turnbull and Myleene Klass hosted a concert of fantastic music, with performances from composer Karl Jenkins, soprano Laura Wright and violinist Jennifer Pike. Here are some of the best moments from an unforgettable evening.
On Sunday 12th June, we marked the 90th birthday of our longest-reigning monarch with a concert featuring the greatest British classical music.
Listen again to the whole unforgettable concert now >
Bill Turnbull and Myleene Klass hosted an evening of performances by some of the very best classical musicians. Here are just some of the highlights.
See all the pictures from an unforgettable evening in our Crown Imperial gallery >
Rehearsals got underway!
The Theatre Royal, Drury Lane, looked truly regal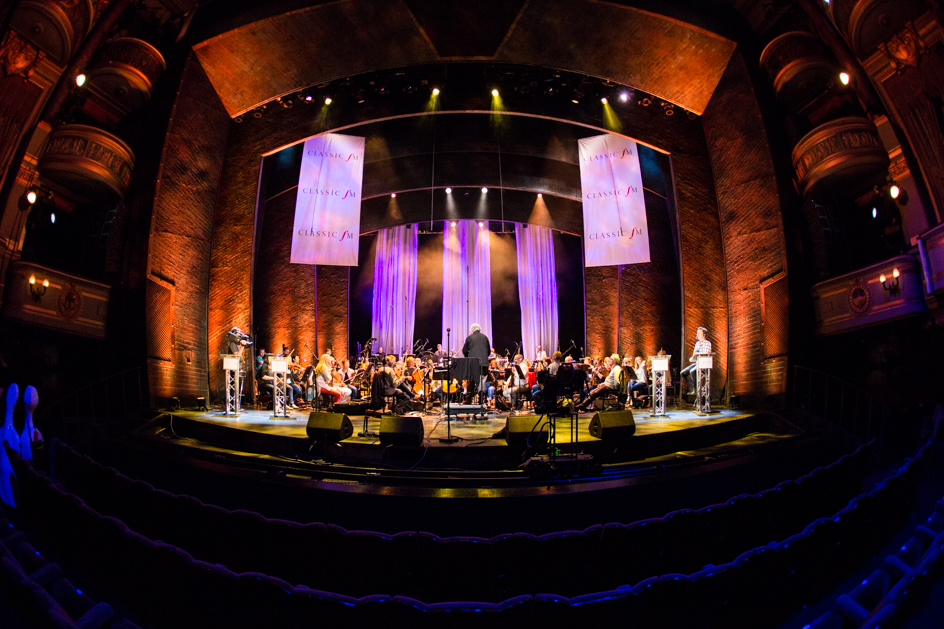 Jennifer Pike gave us a sneak peek of her performance of Vaughan Williams's The Lark Ascending
Jennifer is performing the work that has been voted No. 1 in the Classic FM Hall of Fame for the last seven years. And he's a preview of what she sounds like:
We're not sure who was more excited, us or Jennifer…
V.excited to be performing with @philharmonia at Theatre Royal for @ClassicFM #Queenat90 celebration concert tonight!

— Jennifer Pike (@ViolinJenny) June 12, 2016
Laura Wright arrived – ready for her performance
And she was wearing an absolutely wonderful concert dress:
Nearly showtime here @TheatreRoyalDL @ClassicFM @SkyArts #CrownImperial dress by #temperly pic.twitter.com/9dj1G1CST8

— LauraWright (@thelaurawright) June 12, 2016
Classic FM listeners shared their memories of meeting the monarch
And some of them appeared in the evening's programme:
The concert was broadcast live on Classic FM – and recorded for broadcast on Sky Arts tonight at 9pm
Which explains all the buttons…
And you can listen again to the concert here
The concert showcased some of this country's best music with music by Elgar, Walton, Delius, Holst, Handel and Vaughan Williams, alongside contemporary composers including Nigel Hess (of Ladies In Lavender fame) and the legendary John Barry.
The night also feature da very special appearance and performance by one of our greatest living British composers, Karl Jenkins, conducting his own Allegretto from Palladio.
Other special guest artists included virtuoso violinist Jennifer Pike performing pieces including Ralph Vaughan Williams' stunning The Lark Ascending, plus soprano Laura Wright, performing a number of classic British songs including I Vow To Thee My Country.
Here's the whole programme:
Henry V Suite: 1. Overture - Walton
Arrival of the Queen of Sheba - Handel
The Three Elizabeths Suite No.3 (The Princess Elizabeth) - Eric Coates
The Lark Ascending - Vaughan Williams
Spitfire Prelude - Walton
The Banks of Green Willow - Butterworth
Pomp & Circumstance - Elgar
Danny Boy - Anon
Florida Suite: 2. By the river - Delius
Young Person's Guide to the Orchestra: Fugue Allegro Molto - Britten
Interval
Overture - Wiseman
Buckingham Palace March - Wiseman
A Moorside Suite - Holst
Enigma Variations: Nimrod - Elgar
Enigma Variations: Finale - Elgar
Ladies in Lavender - Hess
English Dances Op.33 No.1 Allegro - Arnold
Allegretto from Palladio - Jenkins
I Vow to Thee My Country
Jerusalem - Parry
Crown Imperial - Walton