Oscars 2016: composer Ennio Morricone wins his first Oscar and Leonardo DiCaprio is named Best Actor
29 February 2016, 06:30 | Updated: 15 December 2016, 11:50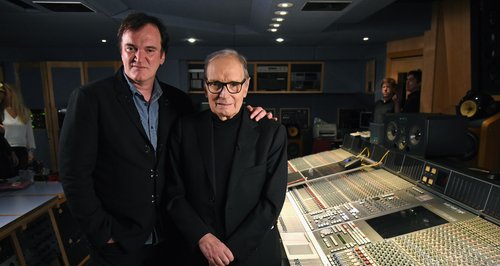 Brie Larson wins Best Actress and Spotlight is named Best Film.
The Oscar winners were announced at glittering awards ceremony last night.
As widely anticipated, Leonardo DiCaprio was named Best Actor for his role in The Revenant while Brie Larson was named Best Actress for her role in Room.
See all the pictures from last night's Oscars
Ennio Morricone's score for Tarantino's The Hateful Eight was named Best Original Score, beating off competition from John Williams (who was nominated for his 50th Oscar). Morricone, who is 87, becomes the oldest person ever to win an Oscar. It is also the legendary composer's first Oscar win, despite six previous nominations.
Speaking to Classic FM ahead of the film's release, Morricone said: "I tried to write a soundtrack that is unique to Tarantino, that is unique to his style as a filmmaker, and that suited the characters and story of the film. Tarantino didn't give me any suggestions, any indications, so I was completely free to develop my own ideas based on my reading of the screenplay."
The music for The Hateful Eight also won the Bafta and the Golden Globe for original score earlier this year.
Spotlight took the Oscar for Best Film but Mad Max: Fury Road took home the most awards, winning in six categories.
Here's the full list of winners:
Best Director
Alejandro G. Inarritu, The Revenant

Best Actress
Brie Larson, Room

Best Actor
Leonardo DiCaprio, The Revenant

Best Picture
Spotlight
Supporting Actor
Mark Rylance, Bridge of Spies

Supporting Actress
Alicia Vikander, The Danish Girl
Original Song
"Writing's On the Wall" Spectre
Original Score
The Hateful Eight, Ennio Morricone
Cinematography
The Revenant

Documentary Feature
Amy

Costume Design
Mad Max: Fury Road

Sound Editing
Mad Max: Fury Road

Sound Mixing
Mad Max: Fury Road

Makeup & Hairstyling
Mad Max: Fury Road

Animated Short Film
Bear Story

Animated Feature
Inside Out

Film Editing
Mad Max: Fury Road

Production Design
Mad Max: Fury Road

Adapted Screenplay
The Big Short

Original Screenplay
Spotlight

Best Foreign Language Film
Son of Saul
Best documentary short
A Girl in the River: The Price of Forgiveness
Best live action short
Stutterer
Best visual effects
Ex Machina