These musicians are throwing a party in the very rooms where Handel liked to party...
25 May 2017, 15:22 | Updated: 30 May 2017, 14:39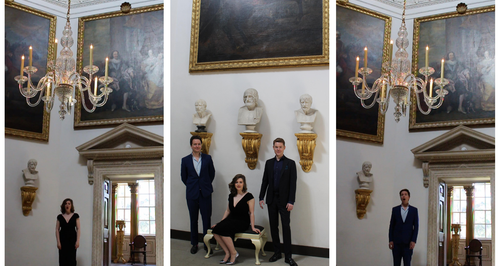 Chiswick House in London was where the best of the Baroque liked to hang out to enjoy art and good music. Sounds like the perfect spot for a concert today.
On the banks of the Thames stands a Baroque treasure trove, designed by Lord Burlington in the 1720s. This house is a gem of English architecture, where Burlington used to entertain and show off his art and treasures from his travels.
Lord Burlington also liked to showcase the finest music. None other than George Frideric Handel was a good friend, and the composer would have enjoyed many nights of good tunes and company in the house.
This summer a group of young musicians are bringing Handel's music and this elegant party atmosphere back to Chiswick House. Singers Daniel Turner, Lottie Bowden and Oliver Gerrish will be performing under the octagonal dome in the centre of the house with instrumentalists Oliver John Ruthven and Katie Holmes.
We got this preview, and the sound under that dome is just incredible. Here's Lottie singing the aria Lascia ch'io pianga:
As well as arias, harpsichords and lovely Baroque sounds, there'll be picnic hampers, strolls around the gardens, and stories from star countertenor and Handel legend James Bowman. If you fancy an elegant night of music in some Baroque splendour, you can get tickets here.
Here's some bonus Handel, and an introduction to the evening from one of the night's musicians, Daniel Turner...