The 10 worst things about being a bass
19 July 2017, 15:40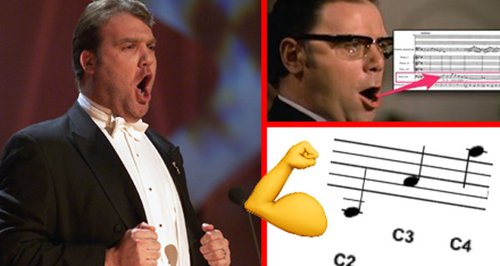 Can you hit a low C? Yes. Do you ever get the limelight, even when you really deserve it? No.
1. People pretend to be a bass, when they're actually a baritone
Can you guys reach a C2? No? Thought not.
2. People always think you play the bass guitar
No, I'm not in an edgy indie band. Yes, I can absolutely nail the bottom F2 in O Isis und Osiris.
3. You never get the lead role
Because male operatic leads are ALWAYS tenors.
4. The end of every piece looks like this
It's impossible to escape that perfect cadence.

5. You NEVER get to stand at the front
Tbf, this does give you express permission to make snarky comments in the back row for the entire rehearsal.
6. You can never zone out and mime along
Because in rehearsal, you're LITERALLY THE ONLY ONE THERE.
7. You forget how to sing along to the melody
"Why can't you just sing the tune and stop going 'doo dum dum' over everything?"
8. You are always drowned out by the tenors
Because they insist on belting out every note, whether the tune is theirs or not. *rage*
9. Evening gigs are your enemy
Can somebody please start scheduling gigs for 6.30am? Because that's when our low notes sound really spicy.
10. You have a serious lack of role models
Dmitri Hvorostovsky, Simon Keenlyside, Thomas Hampson... yes, they're kick-ass singers. But sadly for you, they're all baritones.
No matter what though, you will always have Bryn Terfel.
Lovely, loyal, bassy Bryn.