What are themes and variations? We asked one of the world's top pianists to explain
3 October 2017, 17:52 | Updated: 5 October 2017, 11:22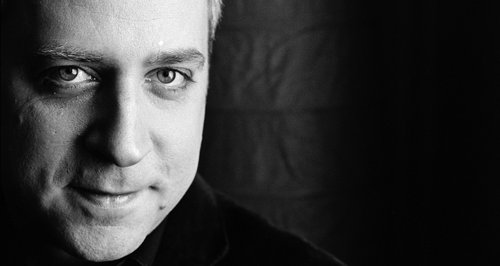 Jeremy Denk is one of the world's best pianists – he was awarded a MacArthur "Genius" Fellowship in 2013 and has recorded the music of Bach, Beethoven and Ligeti among others. But there's one area of music which fascinates him and has inspired composers throughout the ages.
Jeremy has put together a day of music celebrating and exploring Themes and Variations. It's called Infinite Variations and takes place at London's Milton Court Concert Hall on 15 October.
We asked him why he's fascinated with this kind of music.
First things first, what are themes and variations?
It's an idea with a number of riffs on the idea – in all kinds of styles and moods. It's like jazz riffs. You take the theme, you take the original idea and you begin to alter it or add things to it. And then you explore the theme in any number of facets – you begin to re-hear the theme in many different ways.
Sometimes that can just be like a pack of cards, a bunch of different pictures: this theme in the style of a ragtime, or in the style of a fugue. And then sometimes, as often happens in Bach or Beethoven, Brahms, the variations take on a cumulative meaning, each new variation adds to the last. Very often at the end there's a sense of return or summation, an attempt to bring it all back together.
How do composers avoid being repetitive?
It's very hard to repeat yourself in words – some famous poems have repetitive lines but that's a rare effect and it doesn't always work that well.
But repeating with changes is one of the best things that music does, it's one of the most fundamental great things about music – that you hear the same thing but it's been altered in some way and it has this profound emotional effect. Variations are about that mysterious power of music, to do the same thing differently. Like in Bach's Goldberg Variations there's almost a cosmos that he draws out. It feels infinite.
Why have so many composers written themes and variations?
It's incredibly simple in concept and it lends itself to extraordinary catharsis and a sense of process that is very special. Each composer approaches them in their own way. Variation is one of those genres that everybody feels a need to deal with. Actually I think variations speak to the modern era very well.
Because we're used to hearing, in a pop song for example, the same progression repeated, this kind of iterative almost hypnotic quality. I think a lot of contemporary composers are attracted to the form because it has this almost pop-y appeal – you hear that even in a piece like Monteverdi's the Lament of the Nymph. I know that friends of mine who are not classical music people find that piece incredibly appealing because it feels like a kind of a pop sequence and they can enter the catharsis of it.
Why do you enjoy playing themes and variations?
It's one of the most important forms of music. Of course there are many great masterpieces in the form, maybe most especially Bach's Goldberg Variations but also a couple of the great late Beethoven sonatas end with transcendental variations as well.
Most often, it's not really the theme that's being varied but the harmonies that the theme was on. People often freak out when you talk about harmonies, so you'll have to forgive me. But basically it's like a jazz performance in that you don't want to hear the tune, in a way, you want to hear whatever the DNA of the tune is, in terms of how the chords progress to each other.
The chords have a timing or a rhythm, as we all know – when we know a famous tune, we know when the next chord should come. There's an inevitability to it and a sense of expectations. So all the changes that the composer makes to the theme are over this fixed harmonic scheme.
Apart from the Goldberg Variations, talk us through some of the greatest variations ever written
I'm ending the day at Milton Court with one of the most fascinating and bizarre sets of variations ever written – Beethoven's last piano sonata (Piano Sonata in C minor, Op.111).
The second movement is the variations and Beethoven does several things – he writes an incredibly beautiful theme first of all that's very still and all about the fundamental qualities of chords. And then each successive variation has a little rhythmic idea that's drawn from the original theme, a simple long-short-long, long-short-long – Beethoven loved to write with Morse code.
So the second variation is double speed and the third variation is double again, it's incredible, it sounds like boogie-woogie. It's removed us completely from the theme – you can't believe what's happening rhythmically. We're completely lost. He takes us on this very dark journey through chromatic harmonies and at last he finds the theme again at the far end when you think all hope is lost.
It's this act of re-finding the theme, regaining something from the profusion that came before, that's so incredibly powerful.
The Schumann Symphonic Etudes is quite different. It's a young man's piece. The middle of the day at Milton Court is about virtuoso variations and how the act of riffing on the theme becomes a kind of display of the possibilities of the instrument. And it's combined with this sense of play, which is really important to me.
The sense of the joy of playing the instrument – octaves, thirds, Incredibly dazzling technical tricks and switching on a dime from variation to variation. There's very bitter-sweet variation followed by this sombre, marching variation and then there's this light, elfin, magic variation. Schumann keeps moving from trick to trick and then has a big triumphant coda as if to say 'here we are at long last'.
You've written one variation yourself – called Game Over: Brief variations on videogame death music. What's that all about?
Many of these game-over sounds are incredibly irritating. I tried to pick up on the ear-wormy quality of it and the way that they sound a little bit like the more sombre variations of the past. I thought that programme ['Variations on Death' takes place at 11am] could use a little irreverence because there's a lot of sombre music there.
A lot of this game-over music is incredibly short so the variations are going to be short and quickly moving from one to the other. It's games like Mortal Kombat and the Legend of Zelda – stuff that I remember from my childhood. It has a slightly guilty pleasure feeling of going back to this music.
Infinite Variations is part of Jeremy's Milton Court Artist-in-Residence which also sees him perform the last five of Mozart's piano sonatas (12 Oct) and return in early 2018 for the original jazz band version of Gershwin's Rhapsody in Blue (27 Feb), and a final recital on 3 March. Find out more and buy tickets at the Barbican's website.