Gabriela Montero stuns crowd on Bournemouth Pier with piano improvisations on Gershwin and Bernstein
4 October 2019, 13:02 | Updated: 4 October 2019, 14:46
Venezuelan Pianist Gabriela Montero is known for being able to improvise on pretty much any piece of music in any style – and now she has been witnessed rocking up to Bournemouth Pier and doing just that.
Pianist Gabriela Montero is known for playing incredible improvisations in a range of classical and dance styles – and now she's done nothing less than to rock up to Bournemouth Pier and perform some improv on works by Bernstein and Gershwin among others.
In an exclusive session for Classic FM (watch above), she injects a bit of Gershwin's 'Summertime' into an autumnal Bournemouth Beach – with other exclusive footage from her performance coming soon. Watch this space...
Montero, who is Bournemouth Symphony Orchestra's Artist-in-Residence, performed at Bournemouth Pier's Key West Bar as storm clouds threatened to descend, but – luckily – largely stayed at bay.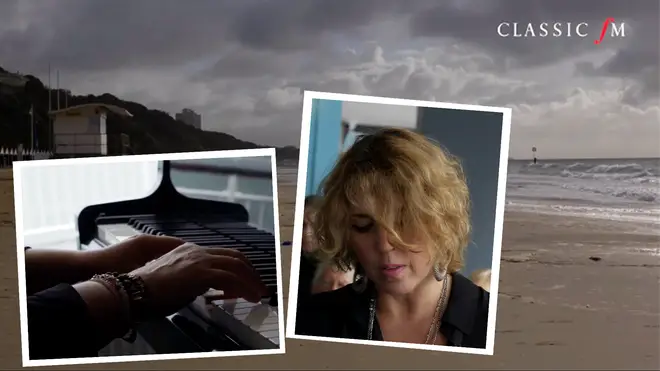 A crowd assembled and enjoyed hearing familiar pieces in their new versions, offering cheers and even a Venezuelan flag by way of thanks.
Montero will be returning to Dorset later this month to perform her Latin Concerto with Bournemouth Symphony Orchestra, Classic FM's Partner Orchestra in the South of England.
She will present three programmes: Latin Fiesta on 16 October in Poole, and 17 October in Portsmouth; Tchaikovsky Magic on 4 December in Poole, and 5 December in Exeter; and with the BSO Soloists on 26 February in Poole.
Gabriela Montero performs 'Latin Fiesta' at Lighthouse in Poole on Wednesday 16 October. Visit www.bsolive.com to find out more.