Fawlty Towers theme: Dennis Wilson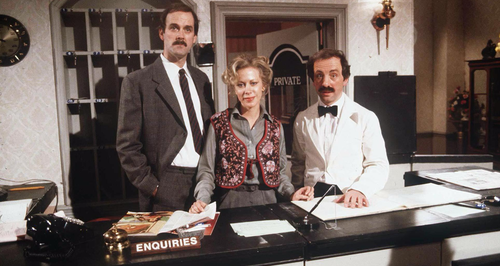 A ropey Palm Court string quartet brought us one of the most memorable sitcom themes ever.
It's hard to believe that there were only ever 12 episodes of Fawlty Towers; each one of them is packed so full of memorable scenes that it seems as if there were many more.
The show was set at the eponymous Torquay hotel where rude, manic proprietor Basil (John Cleese) is henpecked by his wife Sybil (Prunella Scales), frustrated by the hapless Spanish waiter Manuel (Andrew Sachs), and frequently rescued by chambermaid Polly (Cleese's then wife Connie Booth).
The theme's composer, Leicester-born Dennis Wilson (1920–1989) wrote a lot of music for classic TV series and sitcoms. They included some episodes of Steptoe and Son, Till Death Us Do Part and Rising Damp.
Wilson's memorable music was inspired by a Beethoven Minuet with more than a touch of Boccherini, conjuring up the image of a ropey Palm Court string quartet.