The best movie soundtracks of 2016
22 December 2016, 16:25 | Updated: 6 January 2017, 14:45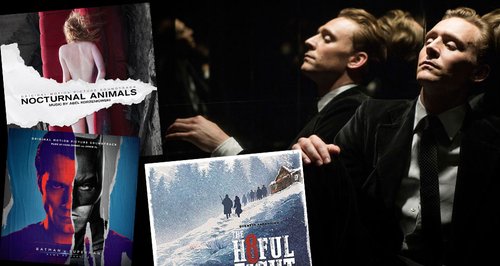 Classic FM's resident movie buff Andrew Collins picks his favourite film scores of 2016. He will play a selection of these and more in his review of the year show: Saturday Night at the Movies, 31 December 2016 at 5pm.
It's been another dazzling and varied year for film scores, in which big names surprised us, one of the worst films of the year had one of the best soundtracks and one of the finest films featured Haydn being played in the Amazonian jungle. My favourites are listed below. You can hear a selection of pieces from these soundtracks - including my top 5 of 2016 - in my show, Saturday Night at the Movies, on 31 December 2016 at 5pm.
High Rise - Clint Mansell
My favourite British composer rises to the occasion of Ben Wheatley's adaptation of JG Ballard's dystopian novel about an allegorically class-riven skyscraper, delivering headily repetitive strings that are just "wrong" enough to summon instant unease and a lone harp and trumpet playing the same motifs. Aromatic and sexually charged, it's surely Mansell's most sophisticated, focussed score yet.
Nocturnal Animals by Abel Korzeniowski
Polish composer Abel Korzeniowski bolsters his reputation as one to watch after TV's Penny Dreadful, the 2013 Romeo & Juliet and fashion designer Tom Ford's debut A Single Man. For Ford's second film, set in the antiseptic art world, Korzeniowski mixes fetching, string-based simplicity with more unsettlingly melodramatic cues for the shocking story-within-a-story. He even boldly works in the sound of female breathing for maximum intimacy.
Arrival - Johann Johannsson
A late arrival, like the music to the equally beguiling space opera Passengers, released just before Christmas, Johannsson's score to this close encounter thriller is more of an ambient, electronic soundscape than a traditional orchestral suite, but it suits the mood and the themes of the film perfectly. It's a film about verbal communication between species, and the Icelandic composer hints at linguistics with passages formed of sampled voices that are almost impossible to decipher. This is very intelligent film music.
Swallows and Amazons - Ilan Eshkeri
This jolly new adaptation of the classic children's adventure by Arthur Ransome, set in the Lake District in the 1930s, has inspired a lovely score by Eshkeri which captures both the nostalgic innocence of a childhood summer and the playful, internecine battles on the water. It's both rip-roaring and bucolic.
Eshkeri came to Classic FM to take us through the Swallows and Amazons soundtrack. Watch a clip below - or see the full interview here >
Batman Vs Superman: Dawn of Justice - Hans Zimmer and Junkie XL
Common consensus has this latest comic-book mash-up as overblown and humourless, but in conjunction with Dutch producer and DJ Junkie XL, Hans Zimmer "retired" from the superhero genre in fine style, with church bells, thundering percussion, metallic clanking, heavenly choirs and, yes, quiet reflective interludes before each storm.
The BFG - John Williams
Williams chalked up his 27th collaboration with Steven Spielberg with one of his most inventive, original and magical scores since Harry Potter. Roald Dahl's favourite inspires him to return to old-fashioned Disney strings and inquiring, mischievous woodwind; some of the cues sound as literally descriptive as a silent movie soundtrack. He certainly nails the differences in scale between the humans and the giants.
Captain Fantastic - Alex Somers
This somewhat flawed drama about a hippie family leading an alternative lifestyle forced to adapt to the harsh real world after a tragedy is resplendent in the resonant, pulsing minimalism of Somers's electronic score, which wraps its emotions in eerie soundscapes, sometimes discordant, sometimes almost celestial in their beauty.
Spotlight - Howard Shore
Having made his name as the provider of horror music and entered a new phase with his Movie Music Hall of Fame-bothering Tolkien trilogies, Shore tried something new for the Oscar-winning investigative journalism drama, using piano, chimes and metronomic ticking to drive the urgency of the story, and plangent strings to suggest the gravity of the unfolding scandal or, as one track title has it, the 'Pain and Anguish.
The Hateful Eight - Ennio Morricone
I'd better join the queue in praising this as the 88-year-old maestro's greatest 21st century work – after all, it scored the Oscar, Bafta and Golden Globe hat-trick – but I've listened to it more than any other score this year. It's anything but the standard western score – how could it be? – and his work for Tarantino's indulgent chamber piece matches its confidence, with percussive, almost Herrmann-esque strings, deep brass, lots of sustain, a cheeky hi-hat and a lonely trumpet lament that recalls Dvorak's Symphony No.9.
Hail Caesar - Carter Burwell
The Coen brothers' longtime collaborator Carter Burwell (whom they prosaically described to me as "never the problem") has great fun with this pastiche of golden-age Hollywood, with his title track, which recalls the solemnity of the biblical epics, a sleazy noir-ish sax solo, the big-band workout Glory of Love and a homoerotic musical number sung by Channing Tatum, which is worth seeing as well as hearing.
Embrace of the Serpent - Nascuy Linares
Colombian musician Linares provides a spare, and all too brief, score for piano, guitar and electronics, blended with haunting diegetic sounds of shamanic ritual and a take on Handel's Sarabande on Spanish guitar. The anthropological picaresque, a black-and-white colonial journey into the Amazon in search of healing plants, also sees a white explorer play his native guide The Creation by Haydn on a wind-up gramophone.