Band of Brothers theme: Michael Kamen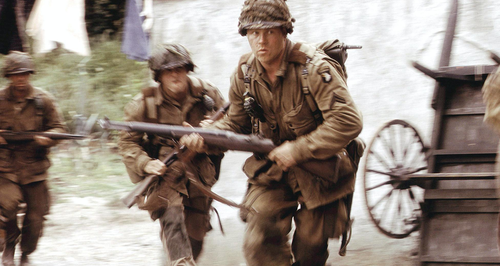 Spielberg and Hanks produced the ambitious 10-part mini-series that gave us one of our favourite TV themes.
First screened in 2001, Band of Brothers was a superior HBO TV mini-series, produced by Steven Spielberg and Tom Hanks, born from their collaboration on Saving Private Ryan and their desire to honour the young fighting soldiers of World War II.
The story followed a group of 101st Airborne regiment paratroopers from training, through the Battle of the Bulge, to their capture of Hitler's Eagle's Nest.
Scoring ten hours of music was a mammoth task for Michael Kamen, best known for Robin Hood, Prince of Thieves. Rather than going for traditional, military-style war film score he opted for a more sombre, reflective tone to depict the human tragedy.
The substantial budget allowed him to bring together the London Metropolitan Orchestra and a full choir to give weight and pathos to his epic, elegiac soundtrack. But some of the best moments are the sparse piano solos, and an ironic use of Beethoven's String Quartet in C-Sharp Minor.
Kamen died two years later, aged just 55.