Alfred Hitchcock Presents theme: Charles Gounod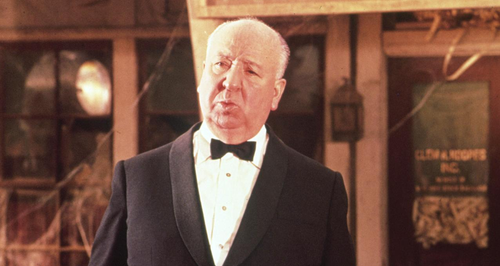 A French classical piece became inextricably linked with the British director.
Alfred Hitchcock Presents aired between 1955 and 1965 and featured the director introducing short dramas, thrillers, and mysteries.

Its title sequence opened with the camera fading in on a simple caricature of Hitchcock's profile.

For the music, his long-time collaborator, the composer Bernard Herrmann, suggested Charles Gounod's Funeral March of a Marionette. It had been used for an American horror radio show The Witch's Tale, which aired from 1931 to 1938. But Hitchcock reportedly remembered it from a 1927 film Sunrise: A Song of Two Humans.

Gounod wrote the piece while residing in London, between 1871 and 1872. It was a satirical character piece that was intended to be a parody of the personality of a music critic Henry Chorley. Gounod's English patron, Georgina Weldon, described Chorley as moving like a "stuffed red-haired monkey." For publication, however, Weldon titled the piece Funeral March of a Marionette.

On Hitchcock's TV show, Gounod's piece plays while the director appears in silhouette at the right edge of the screen, and then walks centre to eclipse the caricature. He then almost always said "Good evening" in his flat, lugubrious voice.

Both the caricature drawing and the theme music became indelibly associated with his image and the piece was one of eight compositions that Hitchcock selected to take to a fictional desert island when he appeared on Desert Island Discs.