This piece is called the 'Nightmare Concerto', and this amazing recorder quartet will show you why
17 May 2017, 10:29 | Updated: 17 May 2017, 14:44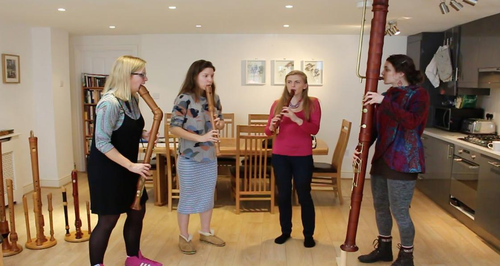 Introducing the Palisander Quartet - and they're totally worth a listen.
For most of us, the recorder is the first instrument we learn in school, and also the first instrument we give up. It's squeaky sound and plastic exterior make it less than appealing for children and parents alike.
Unfortunately, many never seize the opportunity to explore the beautiful, quirky, wholesome sound of a recorder played properly.
Young and vibrant quartet Palisander consists of four graduates from the Guildhall School of Music and Drama and is rapidly building a reputation for their 'outstanding' and 'thrilling' performances. Hannah, Lydia, Miriam and Caiohme play different sized recorders from six inches to six foot long. Changing the perceptions of the world of recorders, last year Palisander held a 'recordathon' which involved playing their recorders for 24 hours. The project raised over £4500, enough to buy a contrabass recorder and help Palisander record their debut album. You can hear the contrabass recorder in action here.
In this arrangement by Palisander's very own Mariam Nerval of Vivaldi's La Notte (The Nightmare Concerto), you can really hear the extent of the diversity in the sound of the different recorders, including the contrabass.
The album will be available to purchase from their website soon and in the meantime check out their Facebook page, and listen to their performance of Vivaldi here:
And some bonus renaissance recorder...