The 8 best classical music viral videos on the internet
14 December 2015, 11:29 | Updated: 6 January 2017, 14:45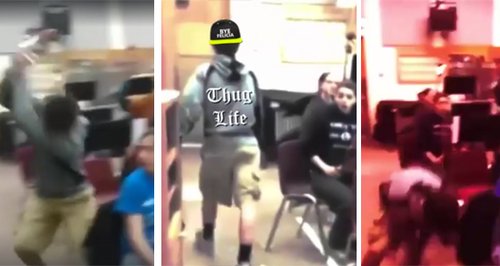 From cows enjoying a spot of brass music to sneezes, chilli peppers and, perhaps inevitably, animals – these are our favourite viral videos from around the world.
Thug Life
Perhaps he should have played the drums instead…
Tag your angry musician friend #thuglife

Posted by Thug Life on Tuesday, 8 December 2015
The upside-down string quartet
Neat gymnastics, witty Vivaldi quotes and some unexpected Kurt Weill all combined to make this madcap performance. Brava, ladies.
Overtone singing
Frankly, we've never seen anything like this – a woman singing two notes at once and managing to make it sound utterly stunning. No mean feat.
2Cellos take on Iron Maiden
Along with the Piano Guys, 2Cellos have cornered the market for high-concept videos, but this is definitely one of our favourites. Taking on the might of Iron Maiden is a challenge at the best of times, but these two went one further and even got the approval from the beasts of heavy metal themselves.
The trombone sneeze
Self-explanatory. Easily the greatest concert mishap on the internet.
Chilli orchestra
This was never going to end well, but when this orchestra attempted to play while eating the world's hottest chilli, few could've predicted how extreme the effects would be. Hilarious and terrifying.
The Mercurotti
Not content with being an exceptional Pavarotti impersonator, Marc Martel also knocks out a pretty mean Freddie Mercury, as evidenced by this one-man duet which he calls (wait for it…) 'The Mercurotti'.
Trombone-playing farmer
Who doesn't love a trombone viral videos? And this is without doubt one of the most wonderful. Watch what happens when this farmer takes a seat with his faithful bit of brass…