We selected the classical works that the US presidential candidates should be listening to
10 October 2016, 13:02 | Updated: 6 January 2017, 14:45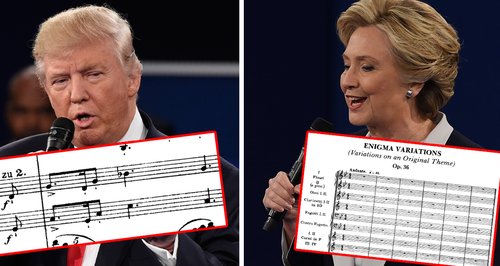 With the US presidential election hotting up, it's time to imagine the music that should be on Donald Trump and Hillary Clinton's campaign playlists.
Donald Trump

Wagner - Ride of the Valkyries
Trump has caused controversy with his comments about minorities in the US. Richard Wagner was undoubtedly capable of great things artistically, but many found his (putting it mildly) forthright opinions on society and ethnicity very troublesome. Is there a parallel to be drawn here?
Verdi - Dies Irae
It would be tough to accuse Donald Trump of approaching things quietly or subtly. Which is why Verdi's Dies Irae is the perfect fiery soundtrack to his actions. Blunt as you like and about as dainty as a wall around Mexico.
Schoenberg - Six Little Piano Pieces
Serialism is confusing. Trump's policy backtracks are confusing. Schoenberg is the ideal soundtrack. #science
Hillary Clinton

Elgar - Enigma Variations
Much has been made of the Democrat candidate's problems with history, and her refusal to reveal the contents of THAT email server. So Elgar's code-heavy Enigma Variations, full of hidden messages and repressed information, is the perfect soundtrack.
Handel - Music for the Royal Fireworks
Hillary is very much the comeback queen of politics, having taken many knocks in her career before finding herself in the final two in the race for the White House. Well, Handel suffered many knock-backs in his career too - his operas and oratorios were cancelled as soon as something more fashionable came along, his reviews veered from ecstatic to venomous, and all the while he managed to keep on producing until his dying days.
Satie - Gymnopedie No. 1
Of the two presidential candidates, Clinton is very clearly the calmest. She's weathered slings and arrows with stoicism, whether she's been able to defend herself or not. So this tranquil, 'la-la-la not listening' classic should definitely be on her playlist.