How to read music when you don't read music: innovative and striking 'listening guides' for classical audiences
2 August 2016, 17:29 | Updated: 6 January 2017, 14:45
Follow the score to your favourite pieces even if you don't read music - and it's all thanks to the Toronto Symphony Orchestra.
Fancy reading a musical score even when you're not a trained musician? Want to leave all those clefs, staves and ledger lines at home? The Toronto Symphony is giving their audience new ways to understand and engage with the music with a very different type of concert programme. And we're big fans.
So what's happening?
The Toronto Symphony Orchestra is tackling the problem of overly complicated programme notes with a great new visual aid. Graphic guides, or listening maps, can be read during live performance or for reference afterwards. Created by the Toronto Symphony Orchestra's resident musicologist Hannah Chan-Hartley, with graphic designer Gareth Fowler, they use a mix of text and graphics with a basic notation that's part infograpic, part Morse code in appearance.
As Hannah Chan-Hartley told The Creative Review, the aim of all this is to "help develop audience appreciation for the art form, to enhance the experience as well as to provide engaging and informative content for audiences". So far listening guides have been created for concert-hall staples like Beethoven's Symphony No. 5, Debussy's La Mer and Mozart's Symphony No. 41 ('Jupiter') amongst others.
Here's 'Jupiter':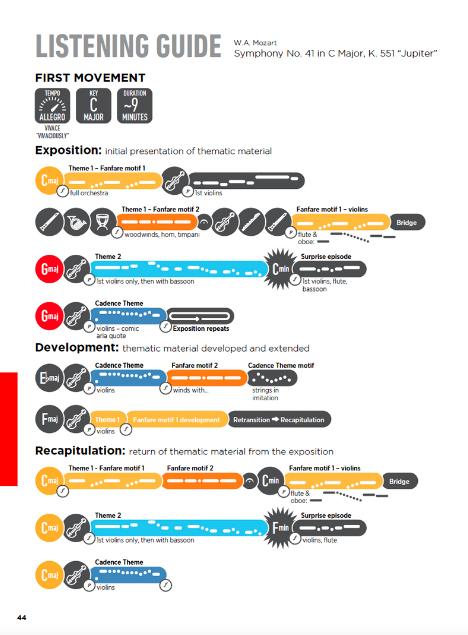 Is there a need for a new style of score?
A visual guide like this condenses traditional scores and long programme notes to something that can be more widely understood. This could be a valuable tool to non-musicians who want to learn more about classical music but who have limited means to understand more complex guides. It's also a great teaching aid for young music students about the shape and structure of classical masterpieces.

We know what it's like at a concert – drink in one hand, programme flapping in the other hand. Toronto Symphony Orchestra's guides all fit onto one easy page, so it is important for the designers to chose only key features. Therefore, these guides are not comprehensive representations, but rather a sketch of the key musical landmarks of the work.
How it works

Here we have the visual representation for the opening of Beethoven's Piano Concerto No. 4. Different themes have here been assigned colours to represent the character of each theme and act as a visual marker throughout the piece. The dots, dashes and waves represent the direction of the musical gestures (much like twelfth-century neumes in Gregorian Chant). For example, on the second line we can see that there is a series of falling gestures played on wind instruments and violins.
This is not first guide of its type however. Artist Stephen Malinowski, for example, creates gorgeous animated graphical scores to visualise music. You need to see his fantastic animation of Stravinsky's Rite of Spring:
Others have applied the idea of synaesthesia and colour to visualise structure.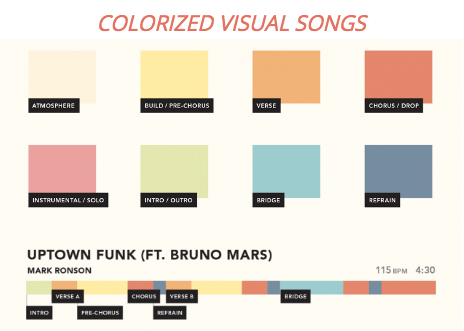 (See it in full here)
The reaction to these guides has been very positive from both audiences and music educators. Maybe it's unlikely that traditional programme notes are replaced altogether any time soon, but we reckon this is a wonderful way of engaging audiences and linking sound, shape and structure.