The funniest classical music videos
22 June 2016, 15:07 | Updated: 23 January 2018, 15:43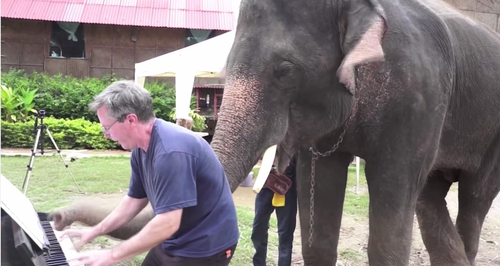 Here are a few brilliant clips to prove that there's more to classical music than white tie and tails, interminable adagios, and learning your scales.
Peter the elephant plays 12-bar blues
When travelling pianist Paul Barton took his instrument to the Royal Elephant Kraal in Ayutthaya, Thailand, he met almost certainly his biggest fan. Peter the elephant had never seen Paul before, but spontaneously started hitting the keys as the pianist performed a spot of 12-bar blues. Watch at 45 seconds, when Peter starts bobbing his head to the music - and his friend starts to shake its bum.
Lang Lang's Chopin orange
Got a piano? Got a fruit bowl? You can now master one of the most difficult pieces in the Romantic piano repertoire. In this video, the superstar Chinese pianist demonstrates how to effortlessly play Chopin's virtuosic 'Black Key Étude' Op. 10, No. 5 - all with the help of a delicious, citrusy friend.

The Silent Monks do Handel
A real classic here – how to perform Handel's Messiah when you've taken a vow of silence. These Monks have come up with a brilliant, and highly entertaining work-around.
The Bach-playing hedgehog
The Baroque master's famous C major Prelude from the Well-Tempered Klavier is no match for this cute fellow (with a little help from YouTuber Cristina Castro). We're looking forward to Prelude and Fugue in E minor BWV548, 'The hedge' #NicheJoke
Not impressive enough? This other hedgehog plays jazz. No joke.

Vivaldi on a three-inch violin
Fancy a little concerto? ...Venezuelan violinist Baltazar Monaca has perhaps taken that a little too literally. Here's the great Italian Baroque composer's Violin Concerto in A Minor played on what has been described as "the world's smallest violin." Very clever, but just don't expect the Bruch Concerto any time soon.
Nessun Jaw-ma
An upside-down Pavarotti look-alike and a cracking Puccini aria. The result is something very special. Bring on the quintet from Rigoletto, we say.
The orchestra's clown is owned
Taiwanese-Australian violinist Ray Chen may be most at home smashing out concertos with top orchestras, but it appears he's also a bit of a comic virtuoso when it come to short videos. Here's one all about the horrors of getting called out in front of the entire orchestra.