This music college has found a way to combat stage fright – a concert simulator
12 October 2016, 15:41 | Updated: 6 January 2017, 14:45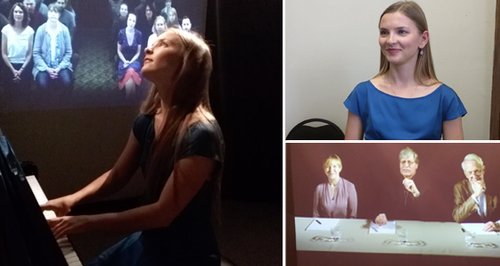 In the Centre for Performance Science at the RCM students can practise performing in front of a "live" audience – even a badly behaved one – without ever leaving a small attic room. Welcome to the performance simulator…
Here's the problem: you're a young music student facing your first solo recital in a high-profile hall. How do you prepare for that?
Here's the answer…
A Performance Simulator, complete with a stage manager, backstage area and CGI audience.
"We developed the performance simulator to give musicians the chance to practise performing, experimenting with and developing their performance skills in conditions similar to those in which they will be working professionally," explains Aaron Williamon, the Director of the Centre for Performance Science at the Royal College of Music.
"Our aim is to support students as they inspect their own strengths and weaknesses. With the performance simulator, we recreate these conditions so that musicians can feel the energy and buzz of a live event without the corresponding risk of negative evaluation."
We found a guinea pig to show us how it works
Pianist Varvara Tarasova – who is studying for an Artist Diploma at the college (the highest level of taught postgraduate study at the college) – uses the performance simulator regularly to prepare for live performances.
"It's almost the same as a real concert – the most nervous moment is waiting before the concert. When I used the performance simulator the first time I was really stressed, but the second time and every time after that I was calmer – and the same happens with real concert halls. When you know the hall and the audience you're calmer."
She walked us through how it works.
Here she is waiting outside the 'stage door'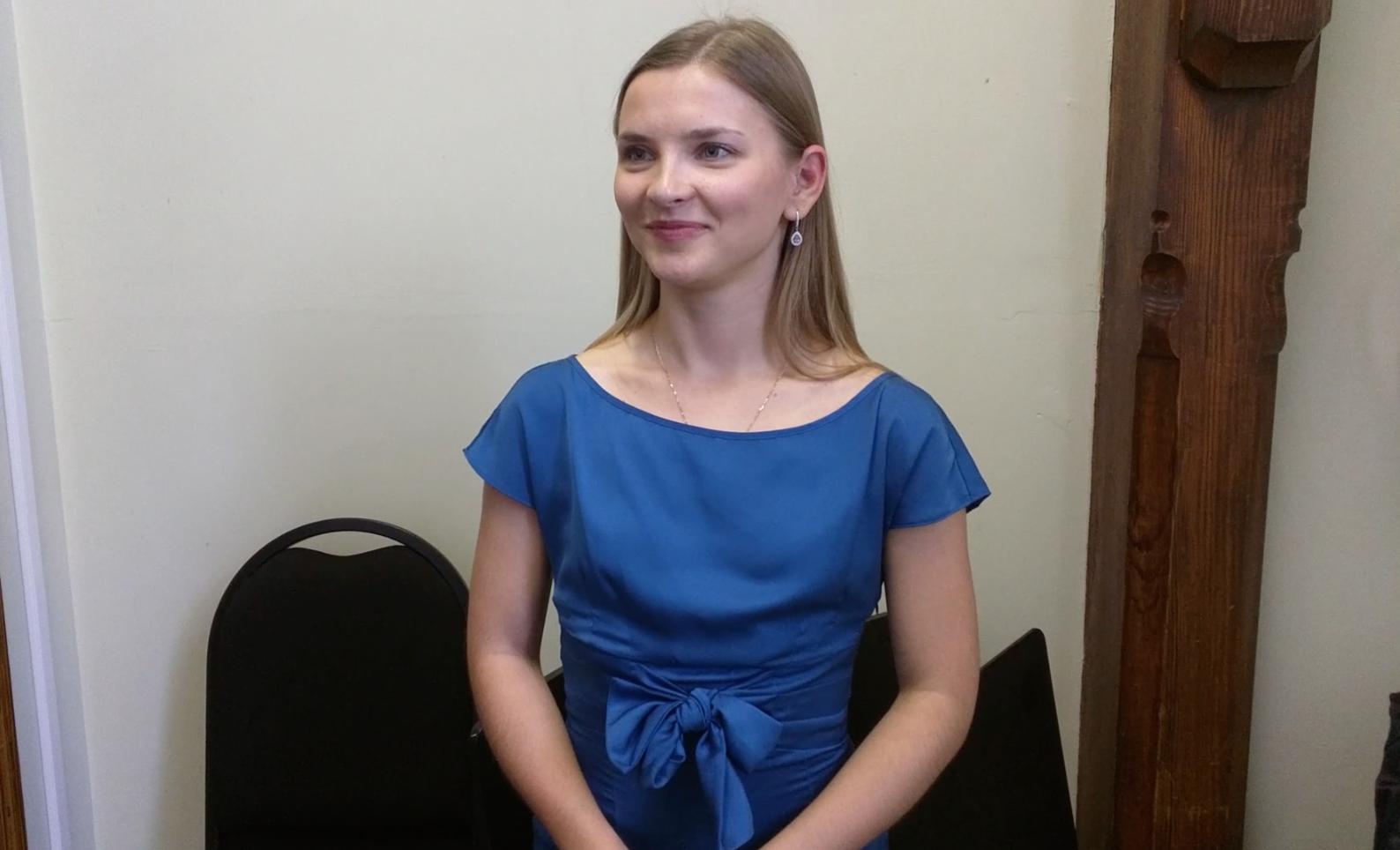 The 'stage manager' came to let Varvara know the audience were ready and then she went 'on stage'
Here's what happened
But the scientists can also manipulate the CGI audience to be a little more tricky
By adding an annoying mobile phone, or a sneeze, or a chorus of coughs:
Or they can be very hostile
There's also an audition panel option
And their enthusiasm can be adjusted from high to… well, stopping you mid-performance (eek!). Here's a picture of them looking all audition-y.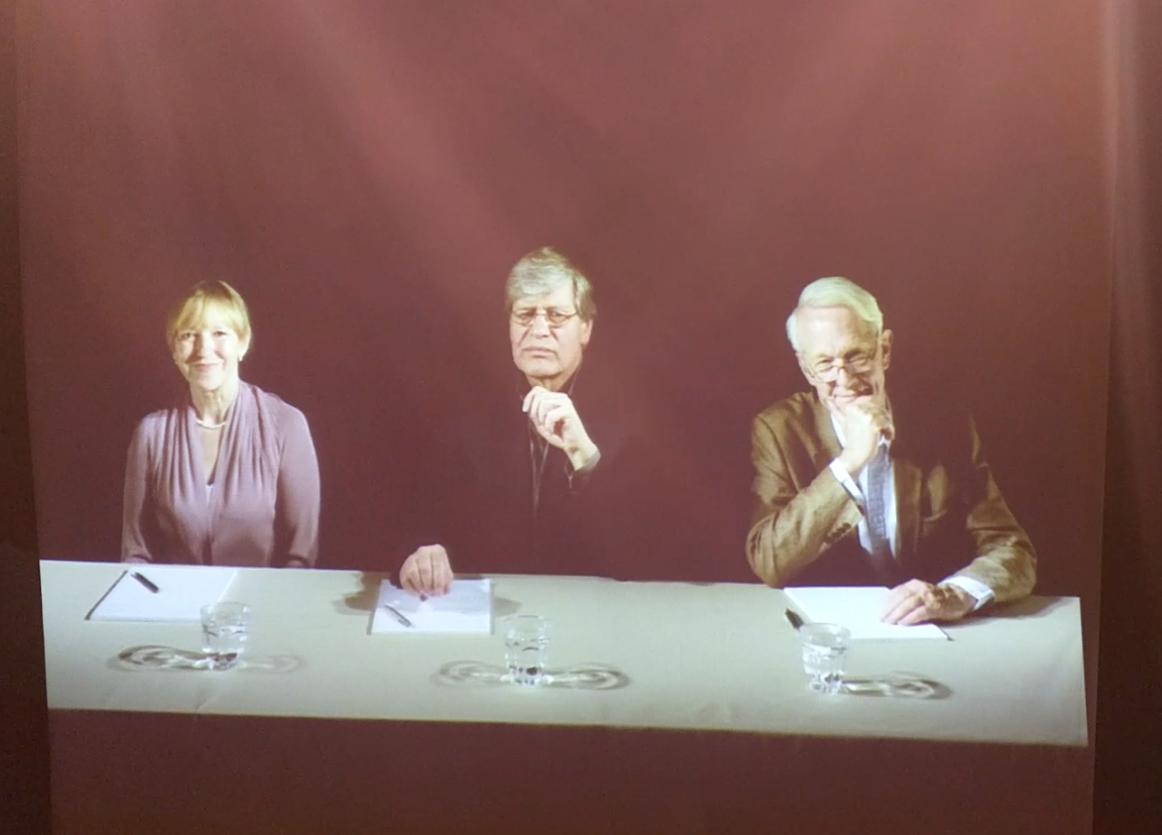 One of the main jobs of the simulator is to help students learn to deal with performance anxiety
As Aaron explains:
"This is a place where musicians can experiment with performance techniques, trial new approaches to communicating the music they perform and systematically tackle some of the persistent challenges they face. As they do so, we work with them to turn up and down the pressures and stressors they feel."
Here are Aaron's top three tips for tackling pre-performance nerves
1. It is important that musicians recognise that they are not alone when they feel 'different' before performance.
Many great musicians have struggled with anxiety throughout their careers, but many too have come to see the change in their feelings and thoughts in these situations as an opportunity to showcase their skills, rather than as a threat.
Although the conditions of performance can be very intense, a positive psychological interpretation of that intensity goes a long way towards helping performers reach their full potential.
2. Audiences are, on the whole, very supportive of the musicians they go to see perform.
They want performers to succeed just as much as the performers themselves and so a positive interpretation of an audience's attitudes can help take some of the negative edge off a live event.
Research undertaken by the Centre for Performance Science suggests that, should something go wrong on stage such as a wrong note or mis-timed entrance, it is best not to let it show. Many audience members simply do not notice mistakes, unless they are accompanied by a visual signal that an error has just occurred.
3. Where performance anxiety is persistently debilitating, it is important to recognise the specific symptoms that come with that feeling
Are they physical (e.g shortness of breath or dramatically increased heart rate), mental (e.g. invasive, negative thoughts) or behavioural (e.g. avoidance patterns or actions that impair the ability to perform)? Appropriate action can then be taken to target those specific problems. There is strong evidence for the efficacy of mental skills training as a psychological based intervention.
There is also evidence showing that being physically fit can help one's body respond more efficiently to the physical strain of performing. There are chapters on each of these approaches (and many more) in the book Musical Excellence, published by Oxford University Press.
Superficial 'fixes' that alleviate symptoms without addressing underlying causes of anxiety, such as drinking alcohol or taking prescription or illicit drugs, rarely work, can impair performance itself, and can create health complications that can themselves be career-threatening.
Throughout this week we're celebrating the Royal College of Music. You can see some of the treasures of the college in this gallery and watch an amazing mime-percussion piece here.