Introducing the Queen Elisabeth Hall in Antwerp and what makes it very special
2 December 2016, 17:48 | Updated: 6 January 2017, 14:45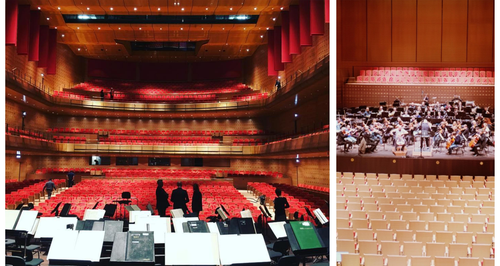 We popped over to Belgium to check out classical music's newest concert hall.
One of Europe's finest orchestras, the Royal Flemish Philharmonic, have a new musical home - the Queen Elisabeth Hall in Antwerp.
It's always an exciting moment when a shiny new concert hall opens its doors, and so we made the (surprisingly quick) train journey from London to the Belgian port city to check it out.
Seating 2,000 people, the hall is right on the city's main square, next to Antwerp Central Station - another magnificent building - meaning you could be on a train home in a couple minutes with the encore still ringing in your ears.
Here's the percussionist's view of the hall. Yep, it's a real looker:
But there's much more to a concert hall than looks. And we wanted to find out about the sound and feel of the hall for musicians and audience, and those things that make a concert hall a truly great performance space.
The orchestra boss
First up we talked to Joost Maegerman, General Manager of the Royal Flemish Philharmonic. We asked him why he wanted to create this new space for his orchestra, and what they were looking for...
The Acoustician
We were interested in the sound of the hall, and what makes a hall sound the way it does. Acoustician Larry Kirkegaard has shaped the sound of many other great concert halls around the world - this place is his newest creation. We asked Larry how they were able to make Queen Elisabeth Hall a special place to hear music. Apparently it's all about the back wall and the acoustical embrace it gives- we'll let him explain it...
We also asked Larry what the sound's like for a member of the audience and the players of the orchestra.
The orchestra player
And how is the new hall for those powering out the notes? Royal Flemish Philharmonic clarinettist Nele Delafonteyne kindly offered us some Mozart and a few words about the sound of her new musical home from a player's point of view!
And, you!
We reckon all sounded very exciting. It's a beautiful hall, the Royal Flemish Philharmonic are a fantastic orchestra, and there's that stunning railway station (and music more) in the city. Find out more about what they've got going on here. We'll tempt you with some spectacular Richard Strauss which we caught in rehearsal the day before the hall's official opening. Just lovely.