Musician's perspective: stop laying into Mariah Carey over THAT New Year's Eve performance
3 January 2017, 14:51 | Updated: 6 January 2017, 14:45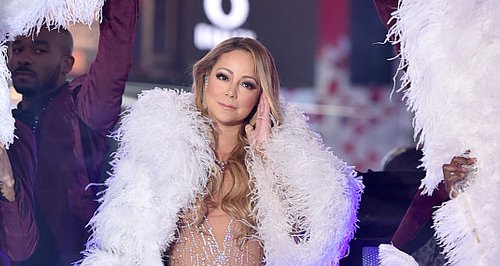 Mariah Carey's New Year's Eve performance has caused much online discussion and mockery - but we're on Mariah's side for this one.
The legendary diva and elastic-voiced soprano Mariah Carey has been the subject of much discussion after she gave a… lacklustre performance on New Year's Eve at Times Square in New York.

She was performing as part of televised New Year celebrations and was supposed to tackle some of her golden oldies for the assembled revellers, but there were severe technical problems.

However, it didn't stop the more negative critics of the internet from speaking out:
mariah carey's new years eve performance pretty much sums up 2016

— luke (@adorevocal) January 1, 2017
Omg Mariah Carey was a mess #NewYearsEve

— Lindsey Kramer (@lindseymkramer) January 1, 2017
Mariah Carey just delivered the worst live performance possibly in the history of New Years Rockin Eve

— Ryan Lavoie (@ryanlavoie0) January 1, 2017
There were plenty more besides these.

After the performance, Carey's team responded to the backlash in no uncertain terms - this was a technical fault. In an official statement to Billboard, a representative said: "There was a production issue. Technical difficulties. Unfortunately, there was nothing she could do to continue with the performance given the circumstances."

The spokeswoman also told Billboard that the show's organisers, Dick Clark Productions had "set her up to fail," which was refuted in a statement from the producers: "To suggest that dcp, as producer of music shows including the American Music Awards, Billboard Music Awards, New Year's Rockin' Eve and Academy of Country Music Awards, would ever intentionally compromise the success of any artist is defamatory, outrageous and frankly absurd."
Another representative for Carey went into extreme detail with Entertainment Weekly about the supposed issues with Carey's in-ear monitors, saying: "The ears are dead. They're dead. So she pulls them out of the ear because if the artist keeps them in their ears then all she hears is silence."

"Once she pulled them off her ear she was hoping to hear her music, but because of the circumstances — there's noise from Times Square and the music is reverberating from the buildings — all she hears is chaos. She can't hear her music. It's a madhouse. At [this] point, there's no way to recover."
Various theories are now flying around the internet, with some suggesting that the real fault was with Carey's own technical team, who may have tuned her earpiece to the wrong frequency.

But whoever is at fault, one thing is clear: it wasn't Mariah Carey. She may have acted in an overtly grumpy and diva-ish fashion (as is often her style), but any musician would surely agree that if you're unable to hear any kind of tonal reference, you're relying on some pretty super-human perfect pitch to bring your performance back from the brink. And not everyone has it, no matter the velocity of their vocal range.
Judge for yourself here, but we know whose side we're on:
When Carey caused a similar online reaction with a notably husky performance of 'All I Want For Christmas Is You' last year, our own presenter (and professional singer) Catherine Bott noted that she showed remarkable musical intelligence to even finish the show.

However, it seems that Mariah does not need our protection. She seems just fine:
Shit happens Have a happy and healthy new year everybody! Here's to making more headlines in 2017 pic.twitter.com/0Td8se57jr

— Mariah Carey (@MariahCarey) January 1, 2017