This rejection letter written to a hugely successful composer will give you creative fire
8 July 2016, 09:49 | Updated: 6 January 2017, 14:45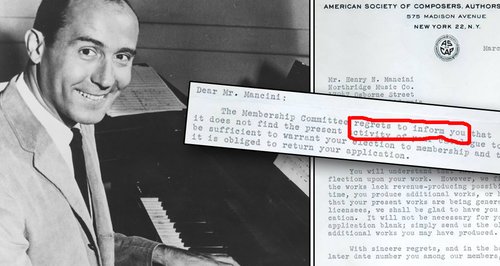 A letter from the American Society of Composers, Authors and Publishers to composer Henry Mancini shows that even the greats get a rough start in the business.
The 1957 letter, posted by Facebook user Dave Williamson, is a reply to an application from Mancini to become a member of the ASCAP. Just one year later, Mancini wrote the theme from Peter Gunn, one of the most famous TV themes ever recorded.

That paved the way for an exceptionally diverse and successful career in soundtracks and songwriting, from The Pink Panther to Moon River, and 20 Grammy wins from 72 nominations. He also won two Academy Awards.

So read this letter and allow it to stoke the fire of your creative efforts - just because someone in an office somewhere thinks you're not right, doesn't mean you're not destined for greatness.