This unbelievably virtuosic Ligeti song is genuinely one of the most explosive things you'll see
6 June 2016, 13:25 | Updated: 8 September 2017, 15:42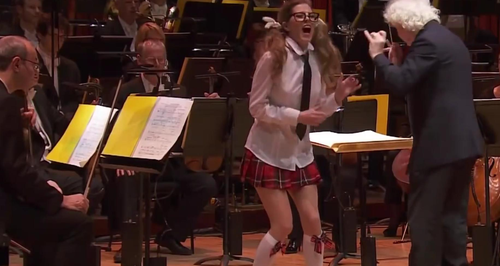 Ligeti's Mysteries of the Macabre is quite possibly one of the most brilliantly bonkers things you'll ever see.
So we stumbled across this video of Barbara Hannigan singing an aria from Ligeti's opera Le Grand Macabre and our lives will never be the same again.

With Simon Rattle waggling the stick in front of the London Symphony Orchestra, Hannigan turns in a breathtaking performance of a work that defies logical definition - it's almost not even music, but somehow still supremely virtuosic.

It starts with this:
Then this happens:
And then, she sings:
As you can hear, this is highly challenging repertoire. And if you're looking for an idea about how 'wacky' the opera itself is, perhaps just note the names of two lead characters: Spermando and Clitoria. Amazing.