8 incredible TED talks about classical music
16 February 2018, 10:54 | Updated: 16 February 2018, 11:10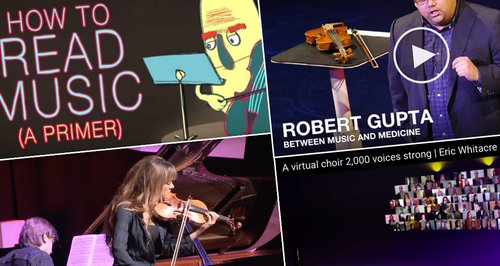 Sit back and let music's most eloquent voices guide you through the glories and mysteries of the classical world
Bite-sized videos, mind-blowing topics
TED Talks (meaning Technology, Entertainment, Design) have been all the rage for some time. There are over 1,700 of these conference style talks on every imaginable topic - and there are some gems on classical music. Here are a few of our favourites.
The 5-minute music-reading crash course
How do you turn musical notation into pretty sounds? This prestissimo tour of reading music takes you through it all, featuring Beethoven and, err... Justin Bieber.
How to read a score
The violinist Tamsin Waley-Cohen explains that reading a score can work in the same way as reading a book – each note is a word, each phrase is a sentence. And there's a string quartet on hand to demonstrate music by Haydn and Ravel
How playing an instrument benefits your brain
According to studies, when you listen to music, multiple areas of your brain become engaged and active - Anita Collins reveals more, with the help of some fantastic animation.
How to become a professional violinist
Nicola Benedetti shares her personal journey – starting with music school, encompassing her meteoric rise to fame after winning a prestigious competition and her career as a professional soloist – and explains why great music helped her combat the at-times artificial nature of the music industry.
The El Sistema movement
Here's the chap who founded the now world-famous El Sistema system of music education way back in 1975. In this TED, Jose Abreu talks about the power of music and how it's transformed the lives of children in Venezuela. The ringleted conductor Gustavo Dudamel is perhaps the system's most famous product and the musicians of the Simón Bolívar Symphony Orchestra are also graduates of the programme. Watch his talk to find out more about the programme which has inspired similar schemes all over the world.
Music is medicine, music is sanity
In 2008 LA Philharmonic violinist Robert Gupta gave a lesson to a brilliant, schizophrenic musician called Nathaniel Anthony Ayers. Gupta describes the 'manic glint' in the musician's eyes and says 'I was afraid I was going to lose him, that he was going to sink into one of his states… But as I played I understood that there was a profound change occurring in Nathaniel.' Listen to Gupta talk about his eye-opening encounter and what he learned as a result.
A virtual choir 2,000 voices strong
How many classical musicians would open a TED talk with the words 'I wanted to be a rock star'? That's how choral composer, conducter and classical mega-hunk Eric Whitacre kicks off his talk about his project The Virtual Choir. In this video he goes through the creative challenges of the project – bringing together singers from all over the world via YouTube – and also treats the audience to a snapshot from his work 'Sleep', performed by his 21st century ensemble.
The transformative power of classical music
Benjamin Zander has made a name for himself as a motivational speaker and has even written a book called The Art of Possibility. In this brilliant talk, Zander talks about his passion for classical music – and if you didn't already love classical music, you will after listening to this…