These are hands-down the 5 best classical covers of Taylor Swift songs on the internet
4 December 2015, 14:34 | Updated: 6 January 2017, 14:45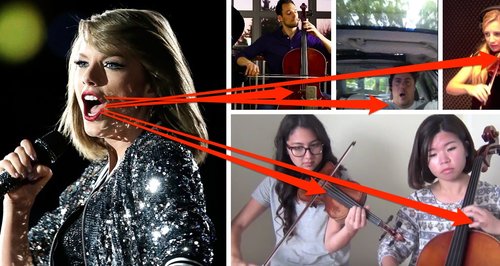 It is literally impossible not to love Tay Tay. So, the classical music world has paid tribute in the only way it knows how - classical cover versions of the best Swiftian hits.
Brooklyn Duo play 'Blank Space'
The cloying eagerness to settle down balanced by the whimsy of living your youth with abandon… Argh, it just feels so real! And even without the lyrics, Brooklyn Duo get it across beautifully.
Aston play 'I Knew You Were Trouble'
This begins in almost Disney-esque flourish of widely trills, but once those massive pop hooks come in you're in no doubt of what this song really is.
The Vitamin String Quartet play 'Safe And Sound'
This quartet are veterans of the classical cover sub-genre, and their inventive arrangements are properly impressive. What's nice about this one is how restrained it is - tempering their sound has a hugely emotional effect.
The Han Quartet play 'Bad Blood'
It's one of Tay Tay's fiercest songs, but half of this quartet have made it rather tender. We approve.
Opera Guy sings 'We Are Never Getting Back Together'
OK, this one is weird. This opera-loving motorist sings along to a stone-cold Swifty classic, and improvises the words. Y'know, like "AAAAAAAAH, Taylor Swift's got a new song!" Insightful stuff like that.