Ten times when classical music was inspired by bikes
3 September 2014, 12:21 | Updated: 6 January 2017, 14:45
We take a look at ten examples when classical composers redefined their normal use of bars, bells and pedals. And it hasn't always been harmonious...
Elgar and Mr Phoebus

If you happened to be rambling along the country lanes of the Malvern hills in the early 1900s, you'd probably have come across the bowler-hatted Edward Elgar pedalling his state-of-the-art 'Royal Sunbeam' bicycle, which he named 'Mr. Phoebus'. Some of Elgar's finest tunes came to him as he straddled the saddle. His joy of cycling is celebrated in this new artwork at the Elgar Birthplace Museum at Lower Broadheath, Worcester.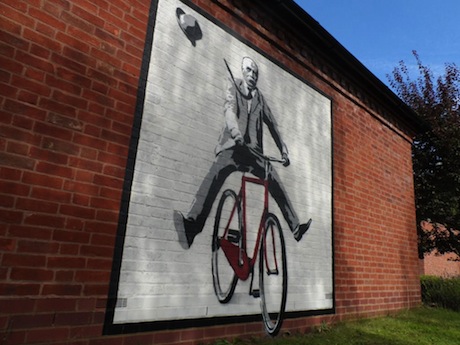 Mauricio Kagel: Eine Brise

The Argentinian composer's 1996 piece Eine Brise requires 111 cyclists to perform on the open road. The cyclists whistle, ding their bells and generally make whatever strange sounds they are directed to by the roadside score. The Highway Code was never this much fun.


Flip Baber: Nutcracker for bike parts
San Francisco-based Flip Baber made this innovative arrangement as a Christmas commission from a bike manufacturer. By sampling sounds from his two bicycles, he gives a mechanical twist to the 'Dance of the Sugar Plum Fairy'.


Nick Fell: ps[c]yched for bicycles and string quartet

Premiered in Glasgow on 14 June 2014, the Coull Quartet use their bows to play four different bikes. The piece was a collaboration between the Universities of Warwick and Glasgow in conjunction with the PRS Foundation for Music 'Beyond Borders' project.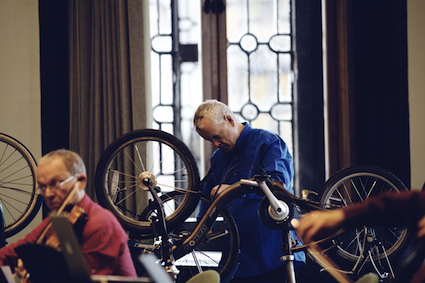 Richard Lerman: Travelon Gamelon
San Fransisco-born composer Lerman gets his musicians to strike bicycle spokes with metal or wood for this 1982 composition - a conservative change from his other pieces for barbed wire and cactus needles plucked by rainfall.

Alexander Gretchaninov: Bicycle Ride

The 19th century Russian composer takes us on a brisk bike ride that lasts 38 seconds. According to our calorie calculator, that's barely long enough to burn off four calories on a bicycle and even less on the piano.

Godfried-Willem Raes: Symphony for Singing Bicycles

Take at least 12 cyclists. Fit their bikes with an electricity generator. Attach a loudspeaker and a 
carefully calculated length of tube. Each bike then produces a specific 
musical scale as the wind whistles through the tubing. Performed more than 100 times in numerous countries, the Symphony by Belgian composer Raes still sounds better in theory than practice.

Josef Strauss: Velocipede Polka

Josef Strauss - son of Johann I and brother to Johann II - was a keen engineer who invented a horse-drawn, revolving brush vehicle to sweep streets. He even composed a waltz called The Mysterious Powers of Magnetism. No surprise then that he was also a fan of the bicycle.

Gustav Holst: Beni Mora

One day Gustav Holst was bored and decided to bike across the Algerian Sahara desert. Not the most relaxing of holidays but the trip did inspire his suite Beni Mora, which he wrote upon his return.



And finally...poor Ernest Chausson

Just as his career was beginning to flourish, French Romantic composer Ernest Chausson rode his bicycle at high speed down a hill, hit a brick wall and went to meet his maker.