What's it like to have a £1.2m Stradivarius stolen?
20 April 2017, 12:46 | Updated: 4 April 2018, 12:38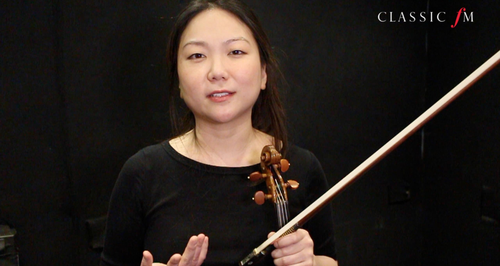 In 2010 violinist Min Kym had her Stradivarius violin stolen in Euston station. The violin was recovered – but it's lost forever to her. She's just written a book about the ordeal and she came into the studio to talk to us about what it means to be a violinist when your instrument has been taken from you
Min Kym was no ordinary violinist. As she writes in her book Gone: A Girl, a Violin, a Life Unstrung, she was a child prodigy:
"It might have been on my first lesson, or it might have been my second; it's hard to pinpoint the exact moment, but let me say that I knew right away that holding a violin, playing a violin, was not simply for me, but it was me. Everything about it seemed so easy, so natural."
So when her Stradivarius violin, worth £1.2m, was stolen while she was in Euston station, her life came tumbling down. As she writes in her book:
"Something is running out of me, something terrible, and there's a chasm yawning at my feet, without limit, and I am teetering on its edge. I want to run back to the time when it was safe, when I was whole… It's gone… But more than that… I've gone too."
Her book tells the story of her life as a child prodigy, as a young soloist travelling the world with her Stradivarius – and how she learned to put her life back together following its theft.
She's now playing an Amati violin from the late 16th or early 17th century and she brought it into the studio to talk us through what it's like to get to know an instrument like this Amati, or the instrument she still calls 'my Strad'.
We asked her what it's like to get to know a new violin by one of the great Italian violin makers
"The first moment I met my Strad when I was 21, it was like a thunderbolt – a love at first sight feeling. This Amati is much more of a grower."
Here's the violin in action – with Paganini's Caprice No.16
And on the album that accompanies Min Kym's book you can hear an 11-year-old Min Kym playing that same Caprice. You can buy the whole album now too.
She also treated us to some solo Bach