Ex-wife who SMASHED all her husband's violins has been arrested
26 July 2017, 15:38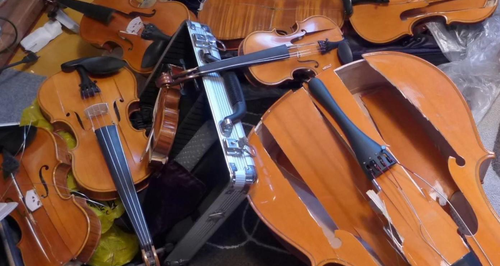 Violinist and violin maker Daniel Olsen posted a video last year of 54 damaged violins in his workshop, a destruction he claimed was caused by his ex-wife in 2014.
On 25th July 2017, Daniel's ex-wife, 34-year-old Midori Kawamiya, was arrested.
Kawamiya herself was a seller of musical instruments in Tokyo, and she admitted to breaking into her ex-husband's workshop in Nagoya in 2014 – but denied the 105.9-million-yen damage to his workshop.
54 violins and 70 bows were completely destroyed in Kawamiya's assault on her ex-husband's workshop – chunks missing, snapped, possibly taken to with a blunt implement. Cellos, violins and guitars all featured in the carnage, including Daniel's own Amati violin, which he claimed to be worth around 50m yen ($450,000).
Norwegian-born Daniel was supposedly on a business trip at the time when his ex-wife destroyed the violins and bows, between 30th January and 19th February 2014.
The original video footage shows the smashed instruments, with officials sifting through the damage. Violinists, look away now – this is a painful sight.
Find Daniel on Facebook and YouTube.