These are factually the 17 best violin pieces in existence
8 December 2016, 10:24 | Updated: 31 March 2019, 10:21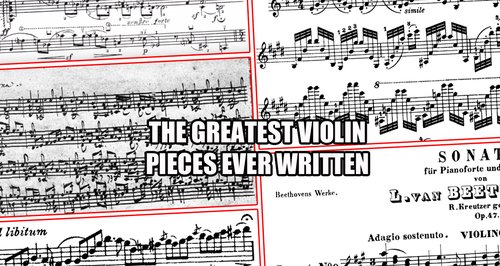 Violinists: how many of these have you attempted? This list will take you through the very best pieces ever written for the violin.
Bach - Partita No. 2, Chaconne

Few moments in music are as dramatic as the opening from this devilishly tricky unaccompanied work. Those jagged chords, the unease and subsequent joy of resolution… It's too much to bear. Only the very finest violinists can truly nail this stalwart.
Bartok - Violin Concerto No. 2

Under constant attack for his anti-fascist views in his native Hungary, Bartok's confused state of mind runs through this rich and tricky concerto. From his occasional 12-tone themes to the shattering climax, it's a technical workout like no other, but with crucial, fiery context for the performer to get their head around.
Amy Beach – Violin Sonata
Amy Beach was an American composer born in 1867. She was well-respected in her lifetime, but sadly her works have been rather neglected since. Her Violin Sonata is a beautiful example of her Romantic style, packing passion, virtuosity and haunting melodies into its three movements.
Beethoven - Violin Sonata No. 9 ('Kreutzer')

Being the emotional melting pot he was, Beethoven's character switches in this charge sonata are even more pronounced than usual. And while he managed to deploy all these emotional colours beautifully in the main areas of his work, something about the intimacy of violin and piano here show him in his rawest light.
Berg - Violin Concerto

Within this concerto, there's a war going on. Struggling to find an artistic space in which he could reconcile angular 12-tone music with more listenable 'normal' late-romantic music, Berg's violin concerto captures the composer in a thrilling no-man's land.
Biber - Mystery Sonatas

This set of 15 pieces for violin have, as their title suggests, a slightly mystical air about them. But aside from that, Biber's skill as a violinist was absolutely essential to its composition. An innovator of the time, Biber was simply able to play things that other violinists couldn't - and the Mystery Sonatas show him as his strongest.
Brahms - Violin Sonata No. 3

Written late in the composer's career, this final violin sonata contains all the melancholic splendour you'd imagine, but also some of Brahms' sweetest melodies. Played well, it'll sweep the violinist along just as much as the audience.
Bruch - Violin Concerto No. 1

Although the technical challenges are very much there for any violinist, the real joy of this concerto is the exuberance. Nailing that capricious nature is just as tricky as the notes themselves, but once you've got, well… you're doing well.
Glass - Violin Concerto No. 1

It divides opinion with critics and fans alike, but Philip Glass' lasting contribution to the violin repertoire certainly has hypnotic power. Whether you find it grating or intoxicating, it's stimulated debate more than almost any other piece on our list.
Paganini - Caprice No. 24

Standing statuesque at the pinnacle of many people's idea of the perfect expression of the violin's strengths, Paganini's Caprice No. 24 for solo violin has more technical wizardry in one piece than most other composers utilise in a whole career.
Saint-Saëns - Introduction and Rondo Capriccioso

Written originally for the great Sarasate (who features in this list in his own right), this spectacular work is legendary among violinists for its passages of insane arpeggios in the early stages.
Clara Schumann – Three Romances for Violin and Piano

Clara Schumann was best known in her day as one of the world's greatest piano virtuosos. But in this trio of chamber works you can hear her natural talent when it comes to writing for the violin as well. Clara went on tour performing these pieces with the great violinist Joseph Joachim – and they even played them for King George V of Hanover who is said to have been "completely ecstatic" when he heard them.
Sarasate - Zigeunerweisen

Everyone violinist's dream party piece. Sarasate's fiendish, exciting encore number is almost custom-built for finishing a concert and as such is renowned for its fireworks…
Sibelius - Violin Concerto

Much is made of the final movement of Sibelius' one and only violin concerto, but there's equal heft and beauty in the first two. A competition circuit favourite for violinists looking to establish themselves, it's a perennial showstopper.
Vivaldi - The Four Seasons

OK, you knew this one would be on the list. Vivaldi has done more for the violin than most thanks to this ubiquitous set of concertos, and it's even become a star-maker in its own right. Remember when Nigel Kennedy did this?
Williams - Schindler's List

For all the moments of movie bombast he's soundtracked over the years, it's actually for one of his quieter moments for which John Williams is rightly respected. This haunting, folky melody is deceptively simple and, given the context of Steven Spielberg's film, absolutely heartbreaking.
Ysaye - Violin Sonata No. 3

Each of Ysaÿe's sonatas in this set were dedicated to a legendary contemporary violinist of his, and this case it was the great Georges Enescu.