This is one of the greatest pieces ever written – but you've probably never heard it
8 March 2017, 12:54 | Updated: 22 August 2017, 12:43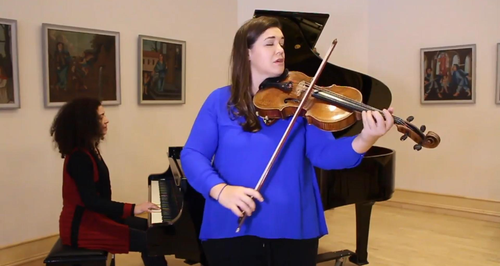 This sonata for viola and piano is regarded as one of the greatest works of the 20th century – but you've probably never heard it. So this International Women's Day, we're championing Rebecca Clarke's monumental Viola Sonata. Stop what you're doing and listen to this…
Who was Rebecca Clarke?
Rebecca Clarke (1886-1979) was a British-American composer and musician who wrote a frustratingly small but dazzlingly brilliant body of work.
She studied violin at the Royal Academy of Music in 1903 (but her family withdrew her from the course when one of her teachers proposed to her) and composition at the Royal College of Music in 1907 (though this, too, came to an abrupt end).
Clarke became the first woman to play in Henry Wood's Queen's Hall Orchestra in 1912 and embarked on a jet-setting life of touring and performing.
The Viola Sonata
Here's a short section of the piece – performed by the brilliant violist Jennifer Stumm. The video was filmed at Vinterfest, Sweden (you can
read more
about that here).
Clarke wrote what has become her best-known work for a composition competition in 1919. It didn't win the competition because of reasons we can categorise as **sketchy**. Instead first prize went to Ernest Bloch, and in fact there was a rumour that Clarke's Viola Sonata was by Bloch. Here's what the composer herself said:
"the rumour went around, I hear, that I hadn't written the stuff myself, that somebody had done it for me. And I even got one or two little bits of press clippings saying that it was impossible, that I couldn't have written it myself. And the funniest of all was that I had a clipping once which said that I didn't exist, there wasn't any such person as Rebecca Clarke, that it was a pseudonym for Ernest Bloch."
What makes it such a great piece?
We asked Jennifer Stumm to explain why she thinks it's one of the greatest pieces over the 20th century:
"Rebecca Clarke re-established the instrument as something that could be soft and feminine and wild and powerful and much more like a jazz singer.
"Every time I go on stage and play this sonata, I know in a way that I've got this, because it's got this incredibly powerful opening and you just own the stage. It's so not what people expect from a viola sonata and I love that."
"For the viola it's a hugely important piece. She envisioned a different kind of viola, one that wasn't pigeon-holed into any one idea. She was writing with this incredible fascination for colour and every possibility of the instrument."
Why didn't Rebecca Clarke write more?
As a woman living in the early 20th century, Rebecca Clarke felt society's pressure to conform to a more traditional female role.
In 1942, when she was living in America, she took a job as a nanny and two years later she married the pianist James Friskin. Composing took a backseat.
How are things different for female musicians today?
"I feel like we shouldn't still be having this conversation – and I think it says a lot about where we need to do better as classical musicians that we're still talking about the role of 50 per cent of the population"
Want to discover more great music by women, this International Women's Day? Here are some of our favourites.