Pianist gets recital flowers delivered by a robot because of social distancing
25 June 2020, 11:07 | Updated: 25 June 2020, 11:30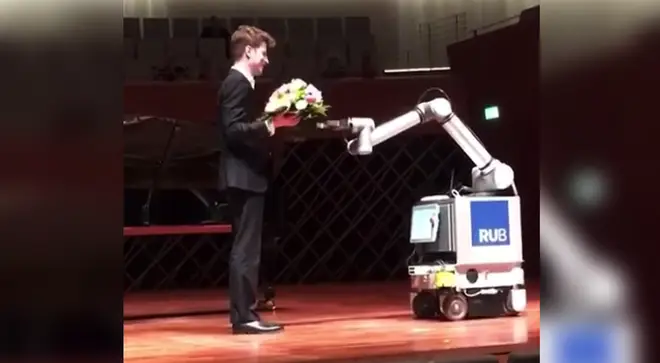 In times of a global pandemic, presenting a post-performance bouquet has adopted a more... automated approach.
Despite new social distancing regulations being enforced in concert halls and venues across the globe, one virtuosic pianist still received flowers at the end of his performance.
But it wasn't a human handing over the bouquet.
Instead, a lone robot wheeled onto the stage and extended its mechanical arm to present Alexander Krichel with the gift.
It may have lacked the more human mannerisms musicians are accustomed to, but Krichel still offered his thanks by planting two air kisses on either side of the machine. What a gent.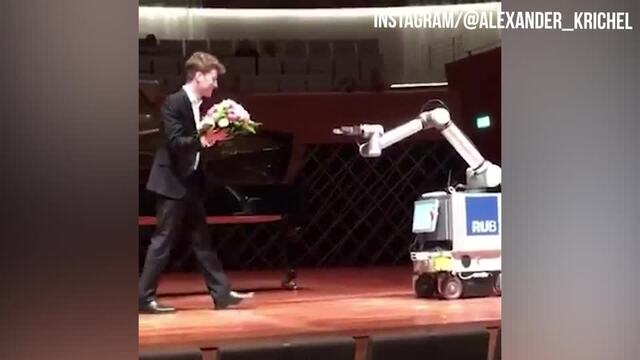 Soloist gets recital flowers delivered by a robot
Read more: Barcelona opera house reopens with a live audience of 2,292 plants >
And this unusual concert moment isn't a first.
Klavier-Festival Ruhr, the annual German music event Krichel was performing at, has been handing out flowers throughout the festival in this unconventional style.
By using a robot, soloists can still receive the traditional post-performance gift – but in a completely contactless way.
It may not have a human touch, but, well, that's the whole point...