Real-life 'Piano Man', Billy Joel, spotted on New York roadside playing discarded piano
17 July 2020, 15:01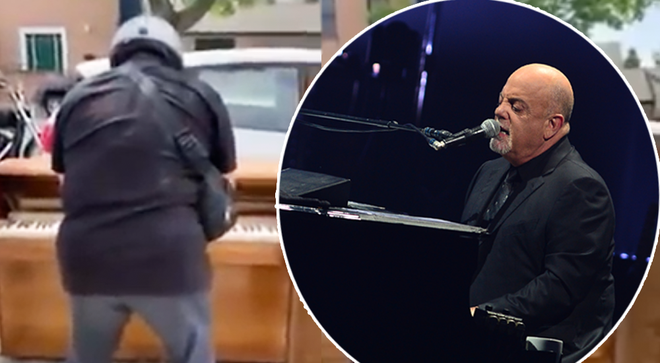 We were all in the mood for a melody... and Piano Man obliged.
Actual Piano Man, Billy Joel, has been spotted playing a dumped wooden piano on a roadside in Long Island, New York.
Spying the lonely instrument, the piano star tested out the keys with a bit of lively ragtime, concluding that the piano is actually in pretty good shape.
"The action is good. It just needs tuning. And the finish is beat," he says.
"It's a perfectly good piano."
Read more: Billy Joel invites a blind teenage piano prodigy to play with him >
The piano legend was reportedly riding his motorcycle when he spotted the abandoned keyboard at the side of the street.
"It's a shame to throw it out," he says to onlookers.
One person, who is out of shot, recommends donating the piano to a thrift store on the corner. Presumably his shop (great entrepreneuring there, pal).
"They'd probably take it!" Joel agrees, before continuing to play.
Read more: Billy Joel's 'This Night' uses the same melody as Beethoven's Sonata Pathétique >
He's clearly surprised by the instrument's condition, as he tells the crowd: "These are laminated keys, the pedals work, the action is great.
"The mechanics are perfect."
We trust Joel's evaluation that the piano is in pretty good shape, and can only that hope it leaves the streets soon for a nice, new home...