This guy just pulled off an epic muso proposal, complete with a grand piano and a HELICOPTER
10 July 2017, 14:09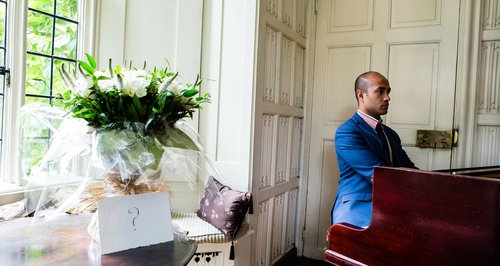 This is what happens when you want to propose to your girlfriend, and her favourite music is Debussy and Einaudi…
When Adam decided to propose to his girlfriend Shymla, he wanted to do something a bit different. And no, that didn't mean pulling the classic ring-in-the-cake trick.
In planning for the big event, he wanted to make sure his girlfriend got every little detail she deserved. So, as a surprise location, he hired out Nether Winchendon House, a picturesque Manor House on the Oxfordshire-Buckinghamshire border.
He also wanted to be sure his girlfriend would arrive at the house from London in style, so he hired this helicopter for her.
"[Shymla] was under the impression that I had won the helicopter flight tickets in a draw at work, and it took place flying over London and all the capital sights," Adam told us.
"On board the aircraft I told her we would be getting champagne at some point. She had no clue about the manor house... or that we would be staying at the house for the night."
Crucially, Shymla is a really big fan of Debussy and Einaudi's piano music. So as the finishing touch, Adam brought in chart-topping pianist Manny Vass (whose album peaked at No. 1 in the specialist classical charts) to play a gorgeous live version of Clair de Lune, during his proposal. *swoon*
Manny then played a selection of transcriptions of Coldplay, John Legend, and Justin Bieber love songs alongside Einaudi, to celebrate the successful proposal. Oh, and don't worry - she said yes!
"Adam was ridiculously well organised," Manny told us. He worked the proposal down to the very last detail; including the ruby engagement ring, which he had custom made from a plasticine mould of one of Shymla's rings.
We always love to hear when music's been part of a very special moment in life. Our congratulations to the happy couple!
Have a listen to Manny playing Clair de Lune below – you can also find more from him on Facebook and Twitter.
If you like the look of Adam's proposal scene, you can also get in touch with the couple's amazing photographer and florist!