These are the 20 best piano concertos ever written
6 July 2016, 11:37 | Updated: 29 August 2017, 17:34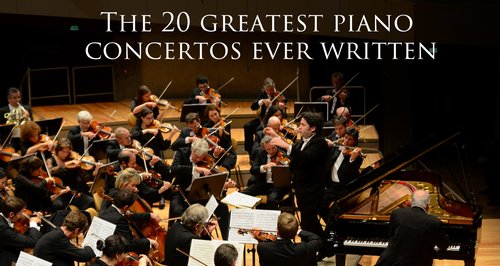 From the exquisite chamber concertos of Haydn to the monumental works by Tchaikovsky and Beethoven – almost described as piano symphonies – these are the 20 concertos you need to listen to right now, as chosen by Classic FM presenters.
In no particular order, these are the 20 piano concertos we think you need to listen to right now – or better still, go and hear performed live. Right, get those headphones plugged in, here we go.
Beethoven's Piano Concerto No.5 (Emperor)
Let's start as we mean to go on. This is arguably the greatest work for piano and orchestra ever written – it's nicknamed the Emperor for goodness' sake. This was Beethoven's fifth and final concerto and it was premiered in 1812 and apparently earned its nickname when one of Napoleon's officers, stationed at Vienna at the time, called it 'an emperor of a concerto'. We agree.
Watch Leif Ove Andsnes' guide to Beethoven's Fifth Piano Concerto
Rachmaninov's Piano Concerto No.2
This colossus of the piano repertoire has topped our annual Classic FM Hall of Fame – voted by you, the listeners – a huge eight times since the chart first started in 1996. Rachmaninov wrote the piece in 1900 after recovering from a bout of depression and writer's block and it has become one of his best known and best loved pieces. The soaring melodies have been used in.
Grieg's Piano Concerto in A minor
The great Norwegian composer only completed one piano concerto and it has become one of the most recognised in the world (thanks, in part, to this iconic comedy sketch by Morecambe and Wise). It was written in 1868 when the composer was just 24 and opens with a dramatic timpani roll followed by one of the most famous flourishes in classical music. Hold on to your hats…
Poulenc's Concerto for Two Pianos and Orchestra
The French composer Francis Poulenc said of this concerto "You will see for yourself what an enormous step forward it is from my previous work and that I am really entering my great period." Not one for modesty, but to be fair, this concerto is infectiously wonderful. The work was written in 1932 and you can hear the influence of the jazz music that was challenging and revolutionising the classical music world.
Shostakovich's Piano Concerto No.2
The composer himself downplayed this concerto, saying it had "no redeeming artistic merits". But audiences have always begged to differ. The piece was written in 1957 for his son's 19th birthday and it would be fair to say the work is one of the composer's jollier pieces. It even includes a jokey reference to his son's piano practise – listen out for the scales in the final movement at around 13.40.
Rachmaninov's Piano Concerto No.3
Another war-horse of the piano concerto repertoire from a Romantic great. Rachmaninov's Third Piano Concerto is one of the most technically difficult concertos ever written (which is quite something). The pianist to whom it was dedicated – Josef Hofmann – never performed it in public and it was the composer himself who gave the premiere in 1909 in New York. It was apparently Rachmaninov's favourite of all his piano concertos.
Tchaikovsky's Piano Concerto No.1
This is one of those pieces of music that everyone knows – even if they don't realise it, like Beethoven's Fifth Symphony or Vivaldi's The Four Seasons. So it's all the more surprising that when Tchaikovsky first showed and played it to the pianist Nikolai Rubinstein, the pianist tore it to absolute shreds, as Tchaikovsky later described: "R. pointed out many places where it would have to be completely revised and said that if I reworked the concerto according to his demands, then he would do me the honour of playing my thing at his concert. 'I shall not alter a single note,' I answered, 'I shall publish the work exactly as it is!' This I did." And we are so glad you did, Pyotr.
Mozart's Piano Concerto No.21
We're heading back to the classical era for our next concerto. Mozart's utterly delightful Piano Concerto No.21 was written in 1785. The great composer premiered the piece himself before treating the audience to some of his famous improvisations. The second movement Andante is probably the most famous section of the piece. Here's a gorgeous performance (the Andante starts at:14.26)
Chopin's Piano Concerto No.1 in E minor
Chopin wrote his First Piano Concerto No.1 in 1830… immediately after the premiere of his Piano Concerto No.2. Confusingly. But this is the first Piano Concerto the famous pianist/composer published. Chopin wrote of the second movement: "It is a Romance, calm and melancholy, giving the impression of someone looking gently towards a spot that calls to mind a thousand happy memories." Here it is:
Brahms' Piano Concerto No.2
Brahms wrote his first piano concerto in 1858. Just over two decades later, he completed his second piano and gave the premiere of the work himself in Budapest in 1881. It's one of the longest concertos ever written – although the composer wryly called it a "tiny, tiny piano concerto". The finale is a thrilling, virtuoso showcase. Here's the whole thing in all its glory:
Beethoven's Fourth Piano Concerto
Beethoven's sublime Fourth Piano Concerto was premiered at a historic concert on 22nd December 1808 as part of a programme which also included the Fifth and Sixth Symphonies as well as the Choral Fantasy. A review of the time called the work 'singular, artistic and complex' and apart from being utterly gorgeous, this concerto was also revolutionary – in that the soloist opens the whole concerto.
Beethoven's Piano Concerto No.3
Sitting right at the centre of Beethoven's series of piano concertos, the third is sort of a bridge between the classical style of the earlier two and the virtuoso Romanticism of the final two. There are influences from Mozart but plenty of famous Beethovenian solo piano material too, especially at the end of the first movement (around 13.10 in the video).
Mozart's Piano Concerto No.20
While Beethoven only wrote five piano concertos, Mozart powered through an extremely respectable 23. Of course Mozart's were generally smaller and, it would be fair to say, slighter works – in fact Mozart said of three of his piano concertos "In order to win applause one must write stuff which is so inane that a coachman could sing it". His 20th concerto, far from being inane, is one of the composer's most beautiful works.
Shostakovich's The Assault on Beautiful Gorky
Ok, so this wasn't technically written as a piano concerto, but it's a piece for solo piano and orchestra and it is super epic. So we're including it in our list. It was written as part of the soundtrack for the film The Unforgettable Year 1919, but ironically no one remembers the film, which was a classic piece of Soviet propaganda. Listen to those thundering chords and weep.
Ravel's Piano Concerto in G major
Maurice Ravel claimed that he came up with the theme for this enchanting piano concerto on a train between Oxford and London. In fact, he was aiming for a light-hearted piece "in the spirit of Mozart and Saint-Saëns". But as it turned out he agonised over the work when he was writing it – particularly one melody in the slow movement. "That flowing phrase!", he said, "How I worked over it bar by bar! It nearly killed me!"
Bartók's Piano Concerto No. 2
Pianist András Schiff said of this piece: "For the piano player, it's a finger-breaking piece. It is probably the single most difficult piece that I have ever played." The Hungarian composer Béla Bartók wrote the concerto in 1930 and it's not just the solo part that's tricky – the New York Philharmonic had to delay the premiere as they couldn't master the music in time.
Here's Yuja Wang showing how it's done:
Rachmaninov's Rhapsody on a Theme of Paganini
This is not only one of the greatest works for piano and orchestra ever written, it's also one of the most famous works of the Romantic era. It's structured as a set of 24 variations on the theme of the 24th and final of the famous violin virtuoso Paganini's Caprices for solo violin (which you can hear here). The result is a work that wears its heart on its sleeve and demands the very highest technical and interpretative ability from its soloist. Paganini would have been proud.
J.S. Bach's Keyboard Concerto in D minor
Bach's keyboard concertos are among the first ever written – and they were written not for piano, but for harpsichord. In fact this concerto, written around 1738 was probably written originally for the violin before Bach decided to arrange it for harpsichord, possibly as a training piece for his own sons. The result is an exquisite example of Baroque ensemble music-making.
Haydn's Concerto No 11 for Keyboard in D major
Written around fifty years later than Bach's concerto above, Haydn's Keyboard Concerto No. 11 is one of the first of the Classical era, though it was still written for harpsichord or fortepiano. The main theme of the final movement – the most famous of the piece – has been identified as a dance, possibly from Bosnia or Croatia. That theme then goes through a set of unexpected and daring modulations and variations and it makes for one of the greatest piano concerto movements ever written. You can hear it from 17.40 here:
Brahms' Piano Concerto No.1
The brilliant British pianist Stephen Hough has said of this piece "[It] is like a symphony where piano and orchestra seem involved at times in a titanic struggle, themes are hurled across the stage with dramatic rhetoric". Brahms wrote it his First Piano Concerto in 1858, when he was just 25 years old – he went on to write just one more. The piece wasn't very well received during his lifetime but it has since been recognised as one of the greatest compositions for piano and orchestra.
Picture: Gustavo Dudamel and Daniel Barenboim performing Brahms' at the Berlin Festival in 2014. Picture: Deutsche Grammophon/ Matthias Creutziger/Unitel