8 times electric guitars were amazing at classical music
17 March 2017, 11:44 | Updated: 2 May 2018, 17:27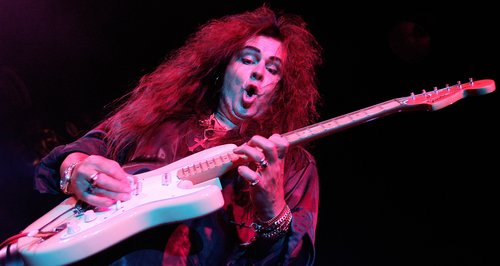 Here are the very best examples of electric guitars taking on the classics. There will be riffage. There will be face-melting solos. There will be an awkward guitar duel between Steve Vai and The Karate Kid.
1. A Bach Badinerie
Marcin Jakubek's widdly version of Bach's dainty Badinerie is all shades of rocktageous. His YouTube channel has various similarly amazing covers too.
2. Impressionist Debussy for metal guitar

A YouTuber calling himself Archaeologist (real name Kyle Schaefer) set Reddit alight with his new interpretation of Claude Debussy's Arabesque No. 1, originally written for piano.

3. 14-year-old completely nails Vivaldi
This one has done the rounds, but seriously - it's insane. Not only is the Four Seasons arrangement absolutely blinding, her sulky-faced playing is breathtaking. Even Eddie Van Halen is a fan, apparently.
4. Yngwie Malmsteen's electric guitar concerto
Proving that thigh-high leather boots are the perfect sartorial choice for the concert stage, Swedish guitar maestro and unleasher of the fury Yngwie Malmsteen wails most righteously throughout his amazing Concerto for Symphony & Electric Guitar.
5. Intense metal Moonlight Sonata
So it turns out Beethoven is the perfect match for the electric guitar. Here, a man who calls himself Dr Viossy (doctoral qualifications presumably exaggerated) shows us exactly how hard it is to play the Moonlight Sonata - just look at the relief on his face when it's over.
6. Beethoven's 5th for electric guitar
The stormy intro to the most famous piece of classical music ever is taken in to the realm of bedroom guitar showboating - and with over a million YouTube views it's clearly doing something right.
7. John Lord - Concerto for group and orchestra
Deep Purple keyboard boffin John Lord composed this insane work of psychedelic blues abandon in 1969 and performed it at the Albert Hall in the same year to a crowd of terribly dressed teenagers. Frankly, though, it still sounds amazing - and the video is worth it to see conductor Malcolm Arnold trying not to bop around too much in the 'band' sections. Magic.
8. Steve Vai plays Paganini in Crossroads (caution: ridiculous)
In one of the weirdest scenes in cinema history, Ralph Macchio from The Karate Kid plays one of Paganini's caprices on electric guitar as part of a hilarious 80s electric blues duel against guitar legend Steve Vai.
Incredibly, the result of said guitar duel will (we're not making this up) appease the Devil himself, who has taken control of the soul of one of the other characters, who is an accomplished blues harmonica player. Oh, and Steve Vai also did the handiwork for Ralph, meaning he's actually duelling against himself.
The film was a critical and commercial success, winning dozens of industry awards and securing its stars their place in the rich history of celluloid forever (lie).