Musicians in different countries recorded this incredible performance across the internet
23 April 2017, 13:05 | Updated: 2 May 2017, 17:18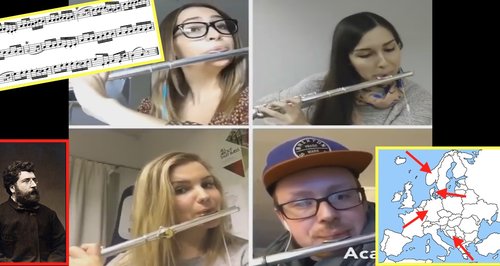 Bizet and Mozart, across the world. What an incredible time to be a musician.
At times musicians may be approximately 2,000 kilometres apart, but thankfully music has no such boundaries or borders. Thanks to the power of the internet, Facebook, Instagram and the AcapellaApp, talented musicians from around the world have been able to come together and create their very own music community.
Bizet's Carmen, across Europe and with flutes
Performing a delightful arrangement of Georges Bizet's Prelude to his oepra Carmen, the flute quartet made up of flautists playing in Bosnia and Herzegovina, Germany, Denmark and Norway - bravo, Ariana Piknjač, Ágnes-Klára Klarissima Sándor, Karen Marie Sørensen, Eirik Hoel Sandvik
Check out their video here:
The "Global Insta Orchestra"
Mozart cares not for continental divides - here's the Overture to the Classical master's Marriage of Figaro, played by Ariana Piknjač, Flute (Sarajevo, Bosnia and Herzegovina), Veronica Isabelle, Oboe (Copenhagen, Denmark), Laura Campbell (Melbourne, Australia), Joshua Elmore, Bassoon (New York City, USA), Esther Abrami, 1st Violin (London, UK), Rachel Harmatuk Pino, 2nd Violin (New Bern, USA), Nikola Ciric, French Horn (Novi Sad, Serbia), Drew Alexander Forde, Viola (New York City, USA), Ken Kubota, Cello (New York City, USA). Phew! And bravo!
The Bach Double Concerto
Instagram stars Klarissima Flute & Sviatoslav P. take to the Bach double. Because who needs a full rochestra these days?