ANOTHER instrument has been completely destroyed during a flight
23 January 2017, 16:19 | Updated: 23 January 2017, 16:30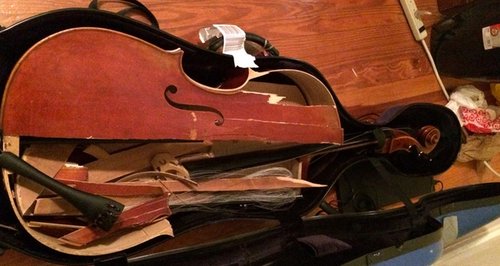 Carrie Miller is still trying to fundraise enough money to purchase a replacement in time for her final graduate recital in April.
Carrie Miller, a cello performance student at Florida State University, is due to perform in her final graduate performance this coming April. However, her cello was recently completely smashed to pieces on an United Airlines flight from California to Tallahassee.
She had taken her cello back home to California for Christmas so she could practice, play for friends and family, and earn some money teaching. On her GoFundMe page, she wrote:
"Whenever I fly, I always gate check my cello to ensure that it is properly handled. When I flew back to Tallahassee, United airlines did not allow me to gate check my cello. I pleaded with them saying that I have checked the cello many times in the past and was allowed to do so on my initial flight to California. They were completely unsympathetic refusing to allow me to be present during the checking process. There were no extra seats on the plane so I could not buy a seat for my cello. I couldn't cancel my flight and was forced to check it through normal baggage procedures."
Devastatingly, when she landed in Tallahassee and opened her cello case, the cello was completely destroyed.
Having taught since she was 16 years old to in order buy her cello and fund her undergraduate studies, she now doesn't have enough money to buy a new cello of the same standard. In the meantime she is using a loaned instrument. However, this is not equal to the standard of her previous cello, nor one that she wishes to perform her final recital on.
Her GoFundMe page continues:
"With this money, I will be able to purchase a high quality instrument that will enable me to play at the level that is required to succeed in my profession...I am performing my graduate recital in April and would like to have a new instrument as soon as possible in order to properly prepare. Not having my instrument this past week has been horrible. I feel so lost without it. Anything you can give would be greatly appreciated. Having supportive friends and family is such a blessing. Whether or not you can give money, thank you for taking the time to read my story, and I appreciate you for being in my life."
Carrie is currently on $7,700 of her $10,000 goal. If you would like to donate to Carrie's GoFundMe page, click here.
If you are worried about travelling with your instrument, read our guide to taking musical instruments on planes.