These are factually the 10 best cello pieces in existence
25 September 2018, 14:56 | Updated: 25 September 2018, 15:00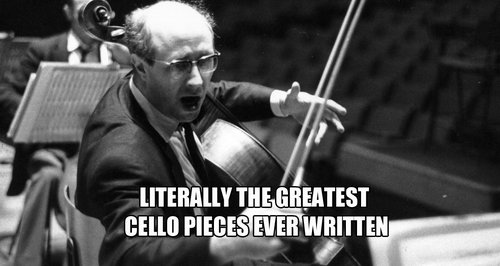 From Bach to Shostakovich big-hitters and some leftfield choices, these are just the greatest cello works ever composed.
1. Bach - Cello Suite No. 1
Towering over the cello repertoire is the opening from Bach's Cello Suite No. 1. Most people who have absolutely no knowledge of the cello (so… most people…) will be innately familiar with the bobbing broken chords and plaintive tranquility that seeps all the way through this work.
2. Beethoven - Cello Sonata No. 3
The great Steven Isserlis characterised this sonata, Beethoven's third of five, as the first in the repertoire to give equal prominence to both piano and cello - making this specimen a perfectly balanced duet, a gem of interweaving melody and accompaniment roles.
3. Brahms - Cello Sonata No. 1
It only takes a few minutes of listening to the opening movement of Brahms' first attempt at a Cello sonata to know that he's cracked it. A master melodist at the worst of times, here Brahms is absolutely on fire.
4. Britten - Suite for Cello No. 1
Dedicated to the one and only Mstislav Rostropovich, Britten's first cello suite is a stark and demanding work that seamlessly locks together nine movements. The changes in character are perfectly suited to Rostropovich's elastic playing style in particular, but cellists have long since found much to sink their teeth into.
5. Bruch - Kol Nidrei
The religious connotations of one of Bruch's most enduring works only add more depth - and with a sensitive cellist at the helm his Kol Nidrei can reach elemental levels of connection.
6. Dvorák - Cello Concerto in B minor
The Czech legend was staunch when it came to his cello concerto. When he submitted it to his publishers, he demanded that no changes be made, not even minor ones by the intended soloist - and it served the piece well over the years. Even today it's seen as a totem of the cello's ability as a solo instrument: singular, daring, dramatic.
7. Elgar - Cello Concerto in E minor
The daddy. Someone would have to do some proper research, but it seems that when people talk about the cello's similarity to the human voice, they tend to do so after having heard Elgar's Cello Concerto. Funny that.
8. Haydn - Cello Concerto No. 1
Of his two cello concertos, Haydn's first just pips the second in terms of its gem-like quality. Melodies flow unbidden throughout all of its three dainty movements, with several moments where Haydn displays his fondness of the instrument's vocal characteristics, leaving it hanging above the orchestra with deliciously long and declamatory entries.
9. Kodály - Sonata for Solo Cello
One man's gimmick is another man's innovation: Kodaly fundamentally altered the cello's tuning to achieve the effect of his solo sonata, a characteristically veering work that has many champions in the cello world. This is truly a cellist's cello piece.
10. Shostakovich - Cello Concerto No. 2
A brutal and demanding experience for cellist and listener, Shostakovich's second concerto for the instrument captures the composer at his intense best. Many a cellist has busted a string and many an audience member has shed a tear at this one.