Listen to this orchestra re-create the atmospheric sounds of Berlin using their instruments
2 February 2017, 15:18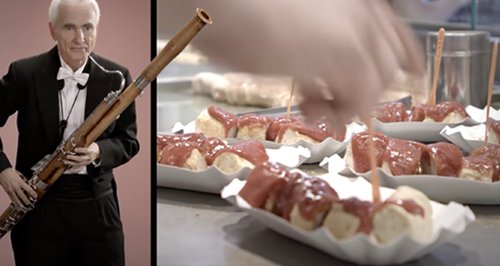 We all knew a trumpet could imitate an elephant, but who knew a bassoon could sound like a sewing machine?
The Konzerthausorchester Berlin has created a series of thirteen videos to pay a musical tribute to their home city of Berlin using a type of sound-art best known as foley.
Foley involves reproducing everyday sound effects which are then added to film. These enhanced sounds can vary from footsteps to the rustling of leaves, and are used to emphasise the sense of reality within a scene.
Using their instruments, music stands, manuscript paper and occasionally themselves, the Konzerthausorchester Berlin has imitated various atmospheric scenes from across Berlin in a surprising and humorous way, ranging from the animals at the zoo to the vibrant nightlife, and the buzzing markets to the renowned S-Bahn.
Our favourite, however, is the video below which recreates the sounds of the sizzling famous Berlin currywurst.
Isn't it amazing there are so many different ways we can use our instruments?