TwoSet Violin are launching a crowdfunded world tour
25 March 2017, 07:52 | Updated: 25 March 2017, 08:06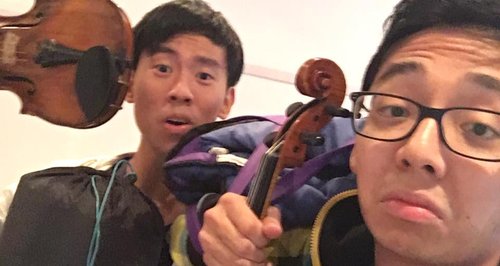 Fundraising efforts are culminating in a potentially endless busking session in central Sydney. So they need your help.
If you're a muso or music-lover and you've been anywhere on social media over the past few years, you've probably encountered the Aussie virtuoso duo TwoSet Violin's brilliantly excruciating viral vignettes. Sometimes they even rope in famous names, like superstar fiddler Ray Chen in a video game battle:
The next project for the duo is to harness the power of the internet to crowdfund an international classical music tour, and they reckon it's a world-first. For them it's also about classical music audiences and the sort of engagement and communication social media can offer. We'll let the pair explain more...
This weekend, TwoSet Violin will be out busking in Sydney and on social media until their target is reached. Follow on their Facebook page and support them in their crowdfunded world tour with a donation here.
Good luck guys!